Carmody Groarke and Chetwoods also working on elements of decade-long U&I project
OMA's plans for a huge £770m scheme in North Greenwich have been submitted by developer U&I.
The mixed-use scheme will provide around 1,500 homes across 12 buildings, many of which will feature vertical green walls, and more than six acres of public land along a 275m stretch of the River Thames.
The scheme's 35% provision of affordable housing will be tenure-blind – meaning there will be no external visible difference between affordable and non-affordable homes.
The proposals will include a new boathouse designed by Carmody Groarke which could provide a permanent mooring for the royal rowbarge, Gloriana, which was built for the Queen's 2012 diamond jubilee celebrations.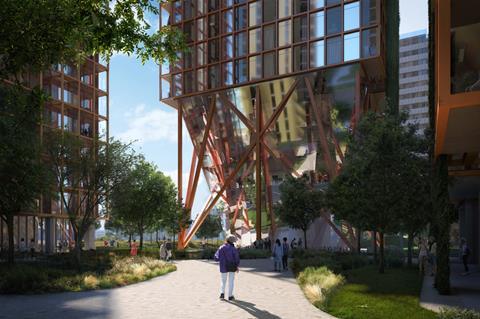 The new district, known as Morden Wharf, will include commercial space and a new riverside park with views of Canary Wharf.
A new boulevard called Sea Witch Lane, named after a pub which was destroyed by a bomb in the Second World War, will bisect the scheme east to west, running towards a public square for seasonal events and markets.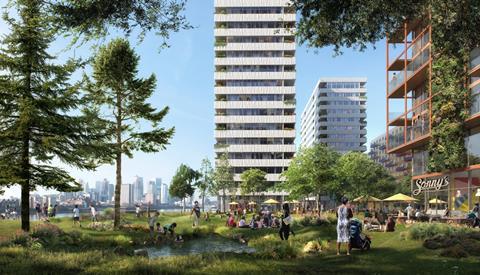 An existing warehouse on the site will house a new pub along with workspace for creative businesses.
Other firms working on the scheme include Chetwoods, which has designed the commercial space, QS Gardiner &Theobald, structural and M&E engineer Ramboll and landscape architect Planit. Work is scheduled to start in April 2023 and to take 10 years to complete.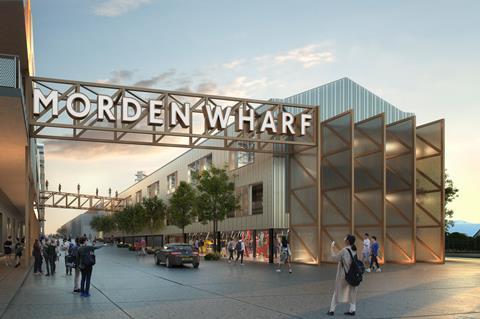 A decision from Greenwich council is expected later this year.