Residential towers stalling but high rise office schemes 'could not be busier' as confidence rebounds, survey finds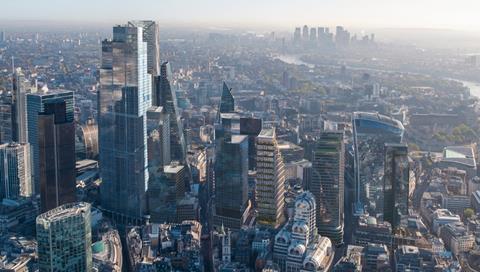 A survey of London's tall buildings has captured the "mixed mood" of the capital's high rise sector as developers grapple with a growing number of barriers to viability.
Increasingly stringent fire safety standards, harder to achieve expectations for low carbon emissions from occupiers and economic uncertainty are all weighing on developers.
But New London Architecture's 2023 Tall Buildings Survey found some parts of the capital's high rise market is seeing huge growth.
While tall residential buildings for sale have stalled amid rising mortgage rates and surging construction costs, commercial schemes appear to be rebounding.
Gwyn Richards, the City of London's planning and development director, said planning applications and construction of buildings taller than 75m "could not be busier".
There have been six approvals in the last two years for tall schemes up to 309m in height, with two live applications currently in planning and the possibility of another four by the end of this year, while a further two are in early talks.
Pictures in the report of the City's future skyline include three new major schemes, Fletcher Priest's 55 Gracechurch Street, KPF's 70 Gracechurch Street and Woods Bagot's 85 Gracechurch Street.
"It's a hugely vigorous pipeline at the moment, probably close to the busiest we've ever been," Richards said.
"The evidence increasingly suggests there is an undersupply of top grade A office space."
Stuart McDonald, operations director at Mace, which is currently working on several tall buildings in London including Pilbrow & Partners' Edge London Bridge, said confidence in the market for office high rise schemes had stabilised.
"Despite the challenges in the market, the increase in demand, in particular for green offices spaces, is steadily growing," he said.
But a stricter regulatory environment for residential schemes, including the requirement for two stair cores in buildings above 18m in height, has forced many housing developers back to the drawing board amid concerns that some tall buildings are now unviable.
Craig Tabb, director at planning consultancy DP9, noted: "As recently as five years ago, if you were to go to a planning meeting with a borough about almost any building, but particularly a tall building, things like sustainability, carbon lifecycle, fire safety, servicing, and emergency planning would have been very low on the agenda.Now they're front and centre."
A report by the National House Building Council found the number of new homes registered to move into planning in the final quarter of last year fell by 63% in London, the sharpest drop out of all UK regions.
Despite the decline in high rise residential for sale, a shortage of rental properties in London is fuelling a a growth in build-to-rent schemes of middle height, between 20 and 25 storeys, the New London Architecture survey found.