Money will be spent on masterplanning for revived scheme
The Department for Transport has announced £400,000 of new funding to kickstart masterplanning for a new railway station in Bradford.
A new station for the West Yorkshire city has long been mooted as part of the Northern Powerhouse Rail (NPR) scheme and received firm government backing last month when the prime minister announced regional transport schemes to replace HS2 spending cuts.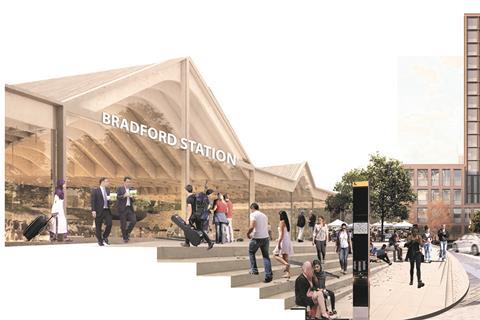 Bradford was promised £2bn as part of the government's so-called Network North policy, with the new station intended to deliver faster rail journeys to Manchester and Huddersfield.
The fresh injection of the cash will allow the local authority to begin to develop a masterplan for the station, considering how it can best support regeneration of the surrounding area.
It is unclear how the new masterplan will link up with work the council has been undertaking with the UK Infrastructure Bank since May to develop plans for the new through-station or to the £500m transport hub proposal developed by Arup for the original NPR scheme.
Arup's plan would have positioned the hub at the St James's Market site at Essex Street, which is owned by the council and close to the Interchange station.
Once complete, the findings will form part of a wider business case for the project which will include details on the proposed location and delivery date for the station.
Rail minister Huw Merriman said: "I have championed the case for a new railway station in Bradford for a long time and the funding announced today will make this commitment one step closer to becoming a reality.
"Bradford is soon to become the UK's 'City of Culture' and our scheme to deliver a brand new station and railway line will help attract tourism, unlock access to neighbouring cities and provide the area with the huge regeneration opportunities it deserves to boost connectivity and economic growth."
Councillor Susan Hinchcliffe, leader of Bradford Council, said: "It is good to see this moving forward, everyone has worked so hard for so long to get this progressed. Improving connectivity for Bradford to the rest of the North is so important to enable greater investment, jobs and opportunities."