Modern methods of construction to be at centre of plan to build 1 million sq m of hospital space in England
The government will announce a major funding package for a generational overhaul of healthcare in England within the next few days, Building Design's sister title Building has reported.
Leaders of the government's New Hospitals Programme (NHP), the plan to build 40 new hospitals in England by 2030, have said the funding has already been agreed with the Treasury and will be announced within the next week.
The programme, which appears to be gearing up for a relaunch, will see the construction of more than 1 million sq m of new hospital space and aims to achieve a 25% reduction in both delivery time and cost using modern methods of construction and material standardisation.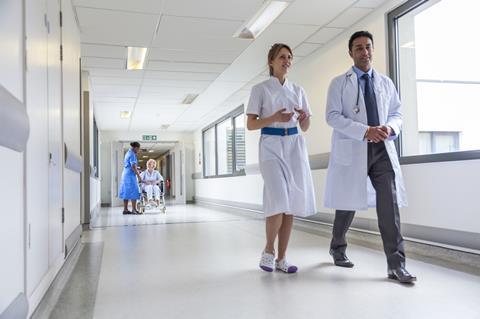 Morag Stuart, NHP chief programme officer, is understood to be expecting an announcement from the Treasury "imminently, certainly within the next week."
"We are really hopeful that we can finally get that announcement out as we have a very significant top level funding package agreed with the Treasury," she said.
It comes after reports yesterday that construction work had started on only seven of the 40 hospitals which the government said in 2019 would be built by 2030.
All six of the hospitals which ministers had said would be open by 2025 are yet to receive planning consent or the funding needed to start construction, the BBC said.
Stuart sought to assure supply chain firms in a virtual market update meeting yesterday afternoon, saying the NHP was a "very, very major programme and the heart and the money are behind us."
"What we're trying to do here is so much more than a building infrastructure programme," she said.
"We are genuinely trying to transform a very significant part of the NHS system. Half of what we're doing is a transformation programme, and the other half is an infrastructure programme."
The NHP is set to submit its overall programme business case to the Treasury for final sign off by the end of this year, Stuart added.
A programme delivery partner (PDP), likely to be a consortium of project management firms, will then be appointed to oversee the programme and drive efficiencies in schemes through integrating modern methods of construction across the supply chain.
The appointment will be made through a competitive tender process via a contract notice, with selection from a shortlist of bidders to be based on transformation approach, delivery approach, social value and a behavioural assessment.
Saurabh Bhandari, NHP programme director, said a "key mandate" for the PDP and the NHP will be creating a "national capability, an industry and a market that will sustain us for many years to come".
"As an institution, as a healthcare industry, we have not actually done this scale of transformation while delivering this volume of work at this level of efficiency for a very long time," Bhandari said.
"We need to industrialise the way we design, the way we manufacture and assemble the buildings, and for that we need to engage with the market proactively to innovate these strategies," he said, adding that the NHP and PDP would "seed the market to go in that direction".
Bhandari said that much of what the NHS had done previously to expand or maintain its estate had been treated as individual projects, resulting in missed opportunities for innovation, inefficiency, delivery risk and a lack of standardisation.
The job of the PDP and NHP will be to provide a "detailed blueprint of how we go about changing the system".
"That transformational strategy is about standardisation across the clinical requirements, across how we do the design, about how we apply the most futurist transformational strategies for the system, and the individual trusts," he said.
Efficiencies which the NHP are understood to be looking at include slashing the numbers of types of doors used in hospitals from the current 27,000 to around 700.
Each hospital currently uses about 1,000 doors, adding significant cost and time pressure onto the end of delivery programmes due to the need for extensive fire testing and commissioning.
All new hospital buildings constructed under the programme will also meet BREEAM Excellent.
The Department of Health has been contacted for comment.