Goldfinger estate would be damaged for sake of 20 social rented homes, claims local councillor and historian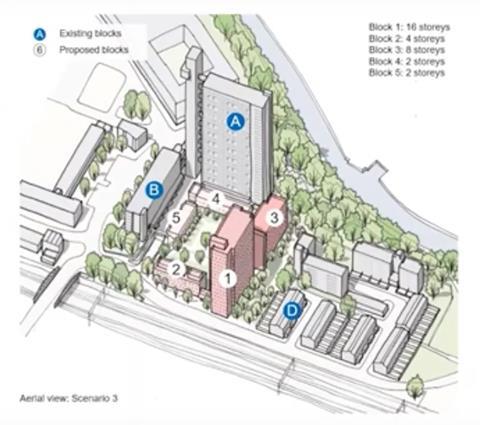 Haworth Tompkins proposals for new flats next to the Trellick Tower have come under fire from the local community who fear they will block views of Erno Goldfinger's west London icon.
The new flats, which could take the form of a 16-storey building set at right-angles to the 31-storey Trellick, are currently going through consultation and have sparked strong feelings locally.
The block is one of five new buildings proposed for the Edenham site which, together with the tower, some low-rise homes and a now-demolished care home, are part of Goldfinger's listed Cheltenham Estate which opened in 1972.
The council said it had considered but ruled out other configurations involving more buildings, one as tall as 20 storeys.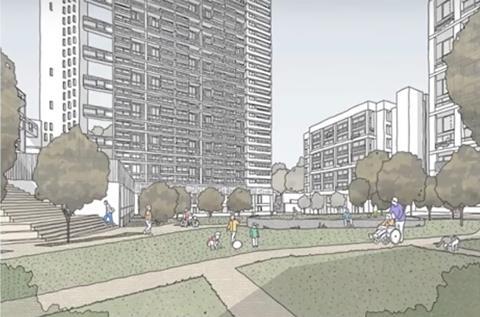 Local councillor and architectural historian Emma Dent Coad said she understood the new development would contain about 127 flats, which were set to be 50:50 private and "affordable", with just 20 flats for social rent. The council disputes this, saying nothing has been finalised.
Writing exclusively in Building Design today, Dent Coad, who was the Labour MP for Kensington until the last election and is a Docomomo advisor, said: "Addressing 'local need' as the council says it has pledged to do, by building 127 homes, only 20 of which are for social rent, is indefensible."
She said the people she represents in Golborne ward were "horrified" by the plans.
"They understand and love Trellick Tower and will not let the integrity of the estate be destroyed by plans for another tower, for so very little community benefit," she said.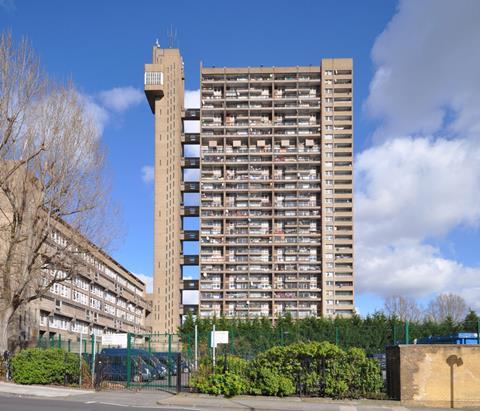 She said she had asked the Conservative-run council 13 times for sight of the viability report submitted to the GLA with a funding application so residents could make an informed judgement. Just before Building Design went to press she said she was sent a three-year-old financial assessment.
A council spokesperson said the borough had an acute housing shortage, with 2,300 people on the waiting list or in temporary accommodation so its priority was to build "as many homes as possible for these residents across our borough while balancing that with the need of the local community".
In a statement the council added: "We value the unique character of the Edenham site, including the iconic, grade II-listed [sic] Trellick Tower, and are working closely with the community to create a scheme that retains that character, improves public open spaces and provides much-needed affordable homes for families in Kensington and Chelsea."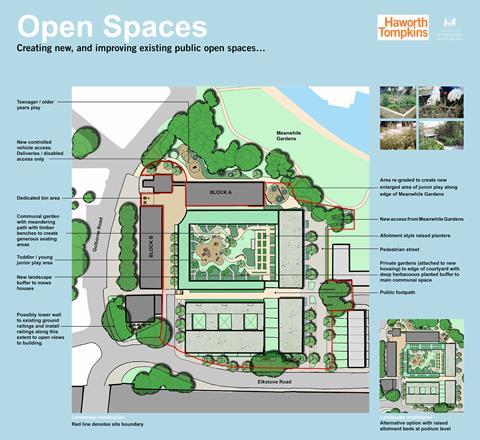 It said it had lined up another round of consultation in response to the strength of feeling.
The council added: "Plans are still emerging and no decisions have been made on the height or scale of the building. We are listening to residents and adapting our proposals as consultation continues. We are committed to providing 50% of affordable homes on the site."
Stirling Prize-winning Haworth Tompkins was appointed to the project in 2014. The selection process was informed by a masterplan drawn up for the site by Levitt Bernstein in 2012. The practice beat John McAslan & Partners, BDP and Mae Architects to the job.
In 2016 Haworth Tompkins completed a development at the nearby Silchester Estate – close to the Grenfell Tower's Lancaster West Estate – adding new homes while retaining a 20-storey tower.
Trellick Tower – the younger sister of Goldfinger's Balfron Tower in Poplar – was grade II*-listed in 1998 and the rest of the estate was given grade II protection in 2012 following a campaign by locals working with the Twentieth Century Society and Docomomo. They were responding to fears that the council was planning further demolitions on the estate after it commissioned a feasibility study from Farrells in 2009. A petition calling for the council to scrap any redevelopment plans and create a conservation area around the social housing attracted more than 300 signatures including James Dunnett, then head of Docomomo.
The listing designation notes the estate is characterised by "bush-hammered in-situ reinforced concrete with pre-cast pebble finished panels and high-quality brickwork".