Walls with denser and more varied planting found to contain the greatest number of invertebrates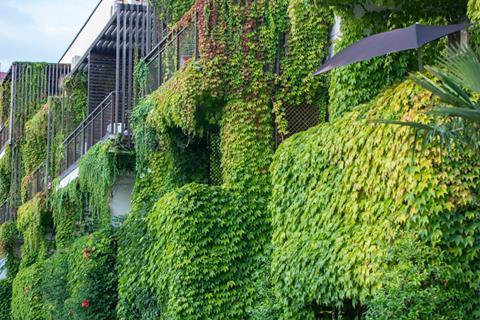 Green walls can play an important role in increasing the biodiversity of bugs in urban areas, according to new research by the Royal Horticultural Society (RHS).
While planted facades are known to increase the biodiversity of plants and other animals around buildings, the RHS study is the first to show their benefits for invertebrates.
The RHS constructed a series of mini buildings to study how bugs responded to a range of facade types.
Researchers left some walls bare and planted others with different combinations of three species of climbers, common ivy, Virginia creeper and climbing hydrangea.
Over the course of two growing seasons the buildings were sampled for invertebrates and the findings reveal that the number and variety of invertebrates increased with wall vegetation depth and cover, while bare walls supported almost no invertebrates.
Considerably more invertebrates were collected from the wall covered by common ivy, the most vigorous and densely-leaved climber, compared to the other two climbers.
The combination of two different forms of common ivy showed a higher invertebrate abundance compared to common ivy alone.
The research found that the more vegetation there is on a wall, and the more varied it is, the more invertebrates are supported.
Andrew Salisbury, head of plant health at the RHS, said: "Greening walls with climbers and other plants creates places for a wide range of invertebrates, including beetles and a variety of predatory invertebrates, to live and to feed.
"In urban areas where many people have little space to garden they can bring huge benefits – not only supporting invertebrates, but providing shelter and food for birds and other wildlife too."
The research was carried out at RHS Hilltop, the society's Wilkinson Eyre-designed science centre at Wisley gardens in Surrey.
Labs at the 4,750sq m facility are also carrying out research into the best plants for soaking up pollution, ease flooding, capturing carbon and cooling cities.