Architect beats Sergison Bates and Wright & Wright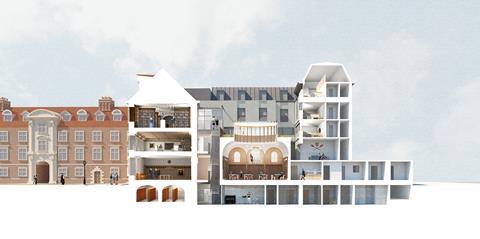 Gort Scott has beaten leading practices to win a design contest to remodel parts of St Catharine's College, Cambridge.
The architect – whose founders are Cambridge alumni – was picked from a shortlist of six which included Sergison Bates, Wright & Wright and the late Rick Mather's practice Mica. Higher education specialists RH Partnership and BGS Architects were the other finalists.
The project will involve remodelling key areas such as the ancient college's hall and related social and support spaces, including a new home for its rare books and special collections.
Jay Gort, founder and principal of Gort Scott Architects, said: "Fiona [Scott], I and the team are absolutely delighted to have been selected to work on such an inspiring project.
"From our time at Cambridge, both as students and then as teachers, we appreciate the significance of dining halls and their adjoining rooms within college life.
"We look forward to developing our concept designs with the College into a series of spaces that are uplifting, welcoming and a fitting backdrop to both the ceremonial and the everyday."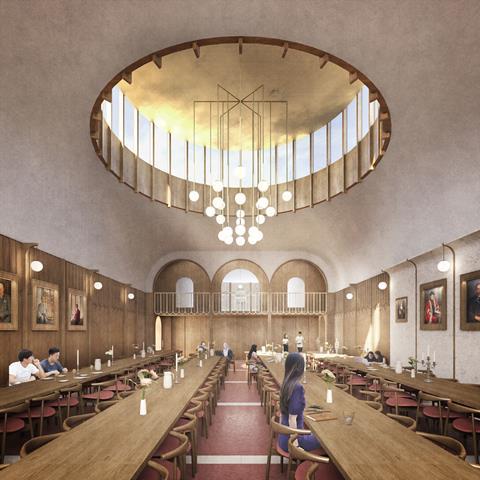 The team's entry was inspired by the rituals and customs of St Catharine's. Gort said the design centred around a "resized and reshaped hall of elegant proportions, crowned by a showpiece lantern rooflight and with the design references taken from the original 17th-century hall".
Mark Welland, master of the college, said the jury had been unanimous in thinking Gort Scott's proposals would result in an "outstanding project that was elegant and powerful and that would encapsulate the spirit and qualities of St Catharine's without pretension."
The competition focused on redeveloping and reconfiguring key formal and informal social spaces. It included the hall and other dining areas; improving access to the 18th-century Sherlock Library, Senior Combination Room, and the award-winning 2013 McGrath Centre; updating service and support areas; and providing a new home for the college's rare books and special collections.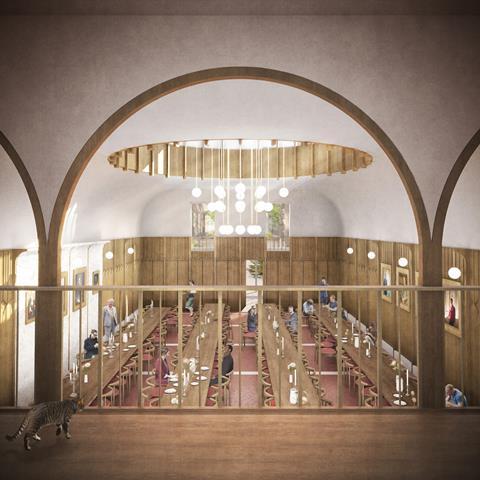 Malcolm Reading, chairman of competition organisers Malcolm Reading Consultants, said: "All of the finalist teams created intriguing and well-thought-out proposals, for which we are very grateful. But Gort Scott Architects excelled in its holistic grasp of design issues.
"It is not very often that a Cambridge college decides to re-make its central dining hall, and St Catharine's has shown rigour in addressing the challenges and identifying the best team for the task."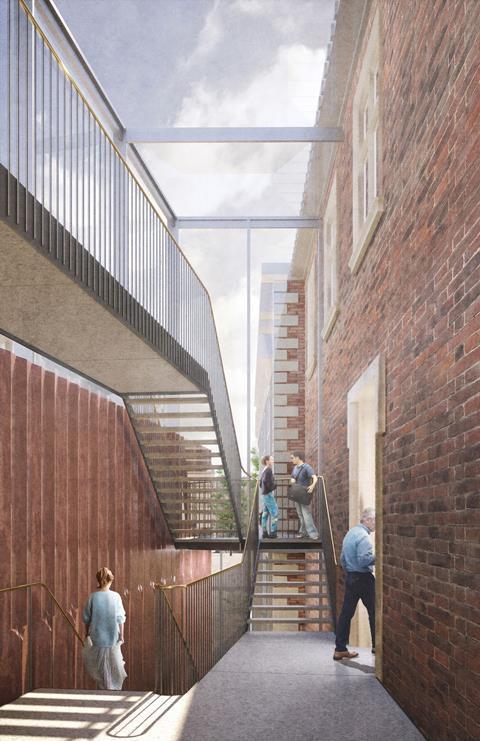 The jury described it as an "inspiring and timeless proposal" that made clear references to the college's history, particularly referencing the original 17th-century hall.
"The design team demonstrated a clear understanding of collegiate life, and the particular aspects of sociability and community that make St Catharine's unique within Cambridge," they said.
They praised the clarity of the design's organisation, while noting that each individual space had a different architectural quality, achieved through attention to detail and choice of materials.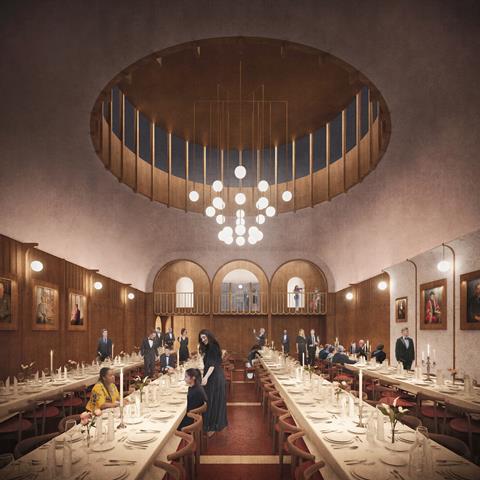 Founded in 1473, St Catharine's on Trumpington Street is one of the oldest colleges to form the University of Cambridge. It is notable for its unique three-sided 17th-century court, now grade I listed, designed by Robert Grumbold, an associate of Christopher Wren.
Gort Scott will work with Max Fordham (M&E), engineers HRW (structures) and Marcus Beale (heritage).
Subject to planning the scheme is due to complete in September 2021.