Occupied housing block designed for Argent by 2022 Stirling Prize winners Niall McLaughlin Architects
A fresh phase of safety investigations are set to start at at a Niall McLaughlin-designed residential block in King's Cross after a section of cladding fell off.
The facade of the award-winning Tapestry Building, a 130-home scheme built for Argent in 2016, has been secured with precautionary straps since February after a single piece of cladding became "dislodged".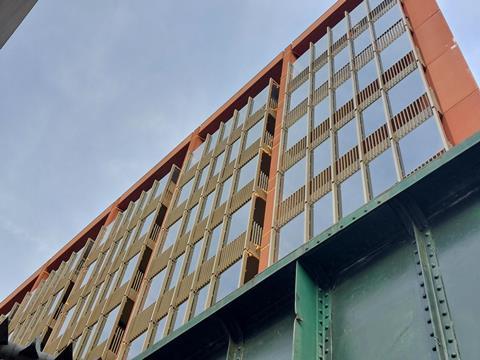 The occupied 15-storey block includes both high-end market housing and social housing along with a restaurant, cafe and an energy centre for the wider King's Cross development.
Argent said it will look into what remedial actions may be required after completing the new round of investigations, which are being carried out by Kier, the contractor which built the block.
Kier's initial set of inspections of the scheme's eastern side will now be expanded to the western, railway-facing half of the building following a grant of approval by Network Rail.
A spokesperson for Argent said: "Investigations on the eastern side of the building are now complete.
"Those on the western (railway) side need Network Rail approval, which we have recently obtained.
"These investigations will commence next week and will take a few weeks to conclude. The findings will then be comprehensively assessed, and any remedial action identified."
The building was handed a RIBA London award in 2017 and praised for its "exquisite, sculpted facade" which consists of patterned terracotta panels made of lightweight, glass reinforced concrete panels.
Niall McLaughlin Architects was the concept architect on the scheme.
Cladding specialist Techrete was the facade engineer, working alongside structural engineer Ramboll, QS Gardiner & Theobald and glazing firm Glass Solutions. Landscape Architect Dan Pearson designed the scheme's roof garden.