Scheme will deliver new visitor centre for Rioja producer Bodegas Faustino
Foster & Partners has revealed designs for the latest phase of its collaboration with Rioja producer Bodegas Faustino, which will see the delivery of a new visitor centre inspired by the industrial heritage of the existing winery.
The proposals also involve extension and refurbishment of current facilities at Bodegas Faustino's base in Oyón, in northern Spain.
The visitor centre will be a lightweight structure made from timber sourced from local forests and featuring anti-funicular arches that maximise the building's structural performance and minimise the use of materials.
Fosters said it would feature an "earthy" colour palette allowing the structure to blend seamlessly with the terroir and red autumn vines.
The building will have a sweeping glass roof that incorporates innovative photovoltaic technologies and which will produce almost six times the energy consumed by the building. Overhangs on all four sides will reduce the amount of direct sunlight the building receives at the same time as creating a transitional space between the inside and outside.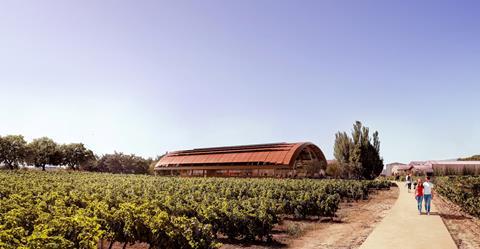 A central skylight and carefully integrated glazed facades bring natural light into the interior spaces, reducing the need for artificial lighting.
Practice founder and executive chairman Norman Foster said the firm's latest collaboration with Bodegas Faustino owners Familia Martínez Zabala would result in a visitor centre that provided a "truly unique and immersive experience".
Fosters completed another winery for the business in the Ribera del Duero region of northern Spain in 2010. It has also completed two winery projects for different clients in France's Bordeaux region.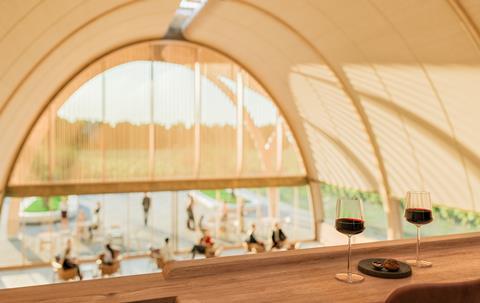 A planning appeal into the firm's £30m proposals for a winery near the village of Cuxton in Kent opened last month. Medway Council planning officers had recommended the scheme, created for Vineyard Farms, for approval. But planning committee members rejected the proposals in March last year.
Councillors' formal reason for refusal said the scale and nature of the proposed development would result in a "significant increase in additional activity" that would "constitute a severe adverse impact and a direct loss of the currently undeveloped tranquillity and wildness of the AONB".