Campaign group says proposals risk undermining integrity of grade II-listed building
Plans to upgrade and expand teaching facilities at the University of East Anglia risk damaging the integrity of the institution's grade II-listed "Lasdun Wall", campaign group the Twentieth Century Society has warned.
UEA is currently undertaking pre-application consultation work on refurbishment proposals for the block, which was the centrepiece of Denys Lasdun's 1964-1968 masterplan for the Norwich campus, and forms the backdrop for its grade II* Ziggurat buildings.
The university acknowledges that the Lasdun Wall is an "iconic" part of its history, but states that it needs refurbishment and repair – and sustainability improvements to reduce its carbon emissions to contribute to UEA's target of becoming a net-zero campus by 2045.
However, the C20 Society says the vision currently being consulted on will see "large sections" of the Lasdun Wall's original façade demolished to house state-of-the-art laboratories, compromising the integrity of the remaining structures.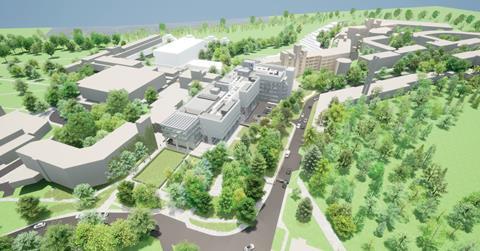 It said that while it was "broadly supportive" of conservation-led measures to improve the fabric of the Lasdun Wall and bolster its thermal efficiency, UEA's scheme "risks undermining the buildings' listed status".
"It's notable that all other later additions to the Lasdun Wall have taken the form of freestanding 'plug in' buildings; adjacent to the main block and often extending the linear form, yet connected via bridges and raised walkways," the C20 Society said.
"The proposed new extensions would involve loss and destruction of original fabric, a fundamentally different approach to that previously taken."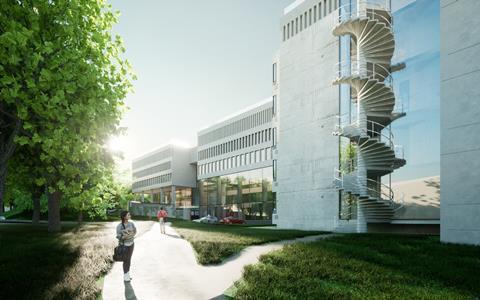 It added: "The proposed doubling of floorplans in particular, suggests the intended use for new laboratories is not compatible with this listed building.
"We'd therefore urge UEA to develop a more sensitive approach, looking to house disciplines within the teaching block that do not require such highly specialised spaces."
UEA is aiming to submit a planning application for its proposals in April. Its current consultation is open unti February 18.