Sir John Soane Museum hosts new exhibition that delves into the on-going influence of Soane on contemporary architecture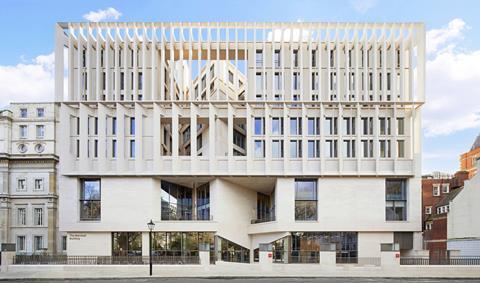 A new exhibition has opened exploring the influence of John Soane on Grafton Architects' Marshall Building for the London School of Economics (LSE) on Lincoln's Inn Fields. It is being held at the Sir John Soane Museum.
The exhibition presents drawings by Stirling Prize-winning Grafton Architects alongside those by Soane, highlighting shared interests in technology and the use of light in interior spaces. Photographs and models are also used to examine the ways in which Grafton Architects have embraced similar themes and values to those that Soane explored in his own architecture.
Bruce Boucher, Deborah Loeb Brice Director of Sir John Soane's Museum, said: "Grafton were drawn to the example of Soane as an innovator, and the points of comparison highlighted in this exhibition show how vital John Soane's approach to architecture remains today."
The Dublin-based firm, led by Shelley McNamara and Yvonne Farrell, recently won the RIBA Gold Medal, and were awarded the 2021 RIBA Stirling Prize for Town House at Kingston University. Farrell and McNamara were both students at University College Dublin, where they met. Grafton Architects was founded in 1978 and has developed an international reputation for its work, which often makes extensive use of reinforced concrete.
Grafton won the commission for the Marshall Building in 2016 following an invited competition. On being appointed, Grafton Architects remarked that they were "delighted to be given this opportunity to build in this unique location in Lincoln's Inn Fields, across from the wonderful Sir John Soane's Museum. When doing this competition, we felt the presence of the Soane Museum as a kind of conscience or measure of what we would need to achieve".
Louise Stewart, Exhibition Curator, said: "This exhibition highlights Grafton's thoughtful approach to designing a building which, like Sir John Soane's Museum, provides a space for learning and debate, as well as a compelling and ever-changing environment for those who use it."
Postscript
The exhibition runs until 8th January 2023