Practice will guide city's expansion from the centre out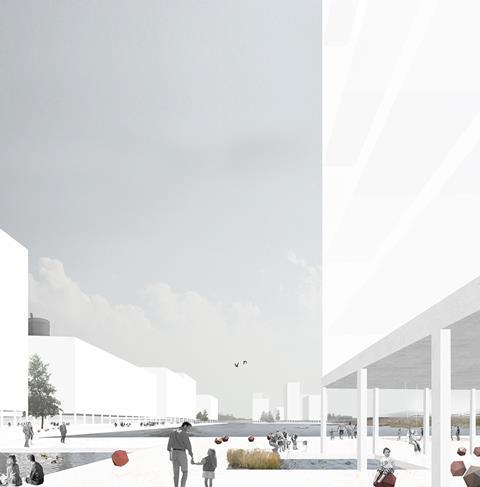 Team EAST/R_E_D will explore the experiential possibilities of making space for water, and the spatial opportunities that might be brought about accommodating flooding. The image visualises a flooded Gullbergsvass, a development site within Gothenburg, to describe an urbanism that allows the water and the city to come together in new relationships.
East and R_E_D (Research into Environment and Design) have been appointed to the second phase of planning RiverCity 2021 in Gothenburg, Sweden.
The British practices will work alongside Dutch firms West 8, Güller Güller and SLA/Henning Larsen Architects of Denmark.
East director Dann Jessen will lead the team examining how the port city can accommodate an expanded population using unused tracts of land in the centre.
The team will explore opportunities for allowing floodwater into dense urban situations as well as open public spaces.
"Given that flooding is only occasional occurrence, what other uses can the infrastructure necessary to manage flooding offer the city?" said Jessen.
"These might include the potential for greater biodiversity, temporary uses, the economic opportunities presented by increasing the city's waterfront, and the new landscape opportunities and public spaces that could be designed in the areas chosen to accommodate floodwater, supporting health, leisure and social cohesion."