Architects working on 3,000-home project include Morris & Company and Allies & Morrison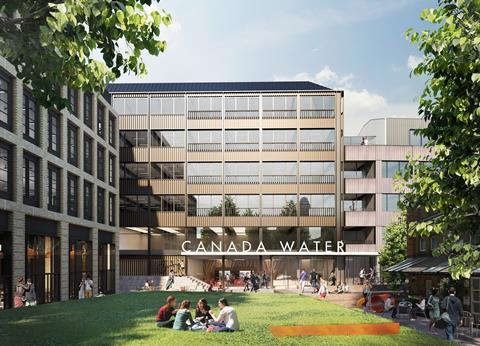 British Land is hoping to hear this summer whether it has got the green light on the first buildings in its huge scheme to redevelop Canada Water.
The firm said this morning it was now "targeting a July planning meeting" of Southwark council for the for the first three buildings of the south-east London development.
It was originally hoping to get a decision on the three earlier this year.
The buildings are known as A1, A2 and K1 with Allies & Morrison the architect on the first two jobs and Morris & Company, BD's Office Architect of the Year, behind K1.
A2, a 180,000sq ft mixed-use project, is understood to have a value in excess of £100m and will include a leisure centre, retail and workspace in a building that will reach a maximum height of six storeys.
A1, located at the corner of Deal Porters Way and Surrey Quays Road, will run across six and 34 storeys. It will include retail and offices as well as 186 residential units.
Morris & Company's K1 will run across six storeys and feature 84 flats.
The Canada Water scheme will eventually turn 53 acres of rundown land in south-east London into a new town centre and 3,000 homes.
The site, which sits between the City and Canary Wharf and is close to Canada Water Underground station, includes the abandoned Daily Mail printworks and the disused Rotherhithe police station.