Wellington College opens £15m 'angle-free' auditorium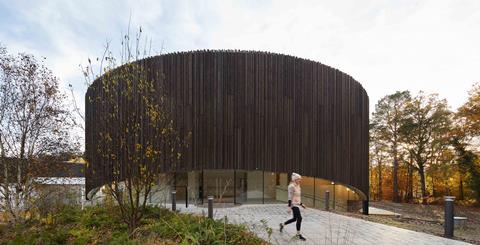 Wellington College in Berkshire has debuted its new £15m Annenberg Performing Arts Centre, which was designed by Studio Seilern Architects.
The 1,400-capacity auditorium boasts a circular form that the practice said was inspired by historic Greek amphitheatres and sits in a forest setting at the Crowthorne school, which counts Nicholas Grimshaw, architect-turned-Bristol-mayor George Ferguson and singer Will Young among its former pupils.
Studio Seilern said the building's angle-free shape was chosen to give an intimacy to performances, both to aid the audience experience and to help prevent young performers from feeling overwhelmed.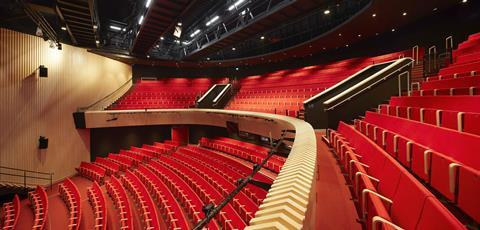 The west London practice also designed what it describes as a "cultural living room" space that doubles as a foyer and a creative hub. The venue is fronted by a glass façade that opens to the wider campus and gives an "active frontage" to Wellington's artistic activities.
The buildings are clad in stained timber.
College head Julian Thomas said the new auditorium would not only benefit pupils and their parents but would also bring in the local community and Wellington's partner schools.
"It is to be a beacon of excellence and a powerful symbol of the way in which the arts can transform both lives and communities," he said.
Wellington College currently charges £13,250 a term for boarders.