Pressure piles on industry to begin shutting down swathes of jobs
Questions over how long sites can remain open for intensified last night after Boris Johnson said the government is considering introducing more draconian measures to fight the coronavirus outbreak.
Yesterday, the number of UK cases stood at 5,683, up 13% on the previous day's figure, with the number of deaths now at 281, a rise of 17% on Saturday's figure.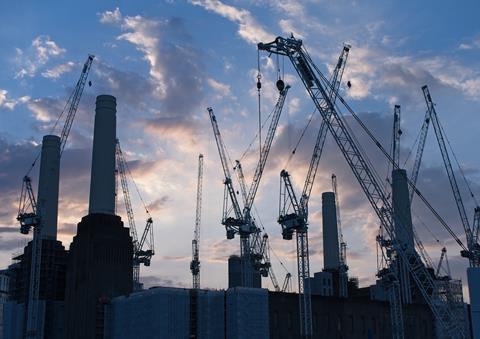 In a briefing yesterday evening, the prime minister warned he may be forced to bring in even stricter measures to increase social distancing after the government last week shut schools and colleges from today and on Friday night ordered all pubs, bars and restaurants to close.
"We need to think about the kinds of measures that we've seen elsewhere, other countries that have been forced to bring in restrictions on people's movements altogether," Johnson said.
Pictures over the weekend showed crowds of people congregating at parks, markets and seaside resorts.
Johnson said allowing people out would only continue if they acted more responsibly and kept 2m apart. "If we can't do that, I am afraid we are going to need to bring forward tougher measures," he said.
The shift in rhetoric has prompted the Construction Leadership Council to convene an emergency meeting later today on how long sites stay open for, with BuildUK set to issue more guidance on what sites should be doing to stay open.
"There is an absence of clear guidance from the government on this," a source said. "They haven't told manufacturing to shut. The government has got to keep the engine of the economy running effectively. Construction infrastructure is an essential function of society. You can keep construction sites relatively controlled. We're staggering entry and exit."
But Simon Tolson, a senior partner at law firm Fenwick Elliott, predicted a big jump in no-shows today and added: "Not many jobs can seriously vouch for labour being 2m apart – lifts, hoists, laydown areas, mess areas, welfare, turnstiles.
"There is now a massive impact with covid-19, the construction sector is under intolerable strain now as I see it. Movement of labour, key personnel and plant and equipment are all hit. Site productivity is majorly affected, all normal metrics have gone out the window."
One interior designer told Building Design: "I wonder how long construction sites will be able to carry on. In my opinion internal decorating by contractors is a no-no. But then there's a risk home-owners will try doing work themselves and end up requiring medical assistance which will put further strain on the NHS."
And the director of a contractor admitted Johnson's latest announcement had piled more pressure on firms to shut sites: "I think many of our clients are thinking the same way [about closures]. But there's risks with banks and funders. I think what is needed is joint action from clients and contractors. If we can't drop our industry's adversarial attitude at a time like this, then we never will."
Another added: "Contractors are continuing because they are worried about their contractual position with clients."
Last Friday, chancellor Rishi Sunak promised government grants to cover at least 80% of the salaries of employees at risk of losing their jobs because of the crisis, up to a total of £2,500 a month.
But self-employed workers were left disappointed they weren't getting the same help and one contractor added: "If he [Sunak] comes out with new guidance this week on self-employed, then I think we'll see more of a drop-off."
Some major firms are reporting that workforce numbers on some sites are down by at least 10%.
The sort of pressure contractors might expect to face over here in the coming days was outlined last week across the Atlantic when the public advocate for New York – effectively the watchdog for the city – wrote to the mayor Bill de Blasio calling for him to suspend all non-essential construction in New York, such as residential and commercial work.
Last Wednesday's letter by Jumaane Williams outlined what essential construction work was – including healthcare jobs, public infrastructure and transport and social housing.
Last night fast food giant McDonald's said it was closing all of its 1,270 restaurants in the UK by 7pm tonight. It is the latest retailer to shut up shop after similar moves by John Lewis, Ikea and Topshop in the last few days.