PM links announcement to Lynch Architects' Victoria project
David Cameron today announced measures to make it easier to amend planning applications for new developments.
Developers will no longer have to pay a second "community infrastructure levy" if they wish to adjust applications to changing market conditions.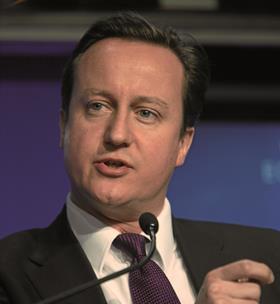 Cameron illustrated the announcement with the news that Land Securities is to start construction of Patrick Lynch's £350 million Kingsgate House scheme on Victoria Street, central London.
The developer's decision was said to have come as a result of the government's intention to end "double charging".
The scheme will see two buildings go up - an 18,000sq m office building called The Zig Zag Building because of its staggered façade - and a separate residential building of 100 flats called Kings Gate.
"The double charging has been identified by large scale developers as disproportionate and a major barrier for developing sites, making key proposals economically unviable," said a spokesman for the Communities department.
Cameron said the Growth and Infrastructure Bill, which will also see £160 million invested in new gas market infrastructure, was intended to help Britain compete "in the global race".
Other measures brought together by the bill include:
:: Allowing the reconsideration of section 106 agreements, while guaranteeing existing affordable housing commitments, to get stalled housing projects moving.
:: Cutting the volume of paperwork which applicants have to submit with a planning application.
:: Stopping misuse of legislation to slow down agreed developments.
:: Implementing the recommendations from the Penfold review to remove other over-lapping development consent regimes, where multiple state permissions are needed on top of planning permission.
:: Speeding up the planning system for large-scale business and commercial projects. Where developers choose the fast-track route, decisions will be taken in 12 months. Existing requirements to consult local communities are retained.
Cameron said: "We are slashing unnecessary bureaucracy, giving business the confidence to invest, unlocking big infrastructure projects and supporting hardworking people to realise their dreams.
"Already the changes we are making to the planning system are having an impact, with Land Securities giving the go-ahead to a major multi-million pound investment, supporting thousands of jobs in our construction industry.
"No one should be in any doubt about our determination to make sure Britain, and the British people, rise in the 21st century."