Harley Facades commercial manager quizzed about close relationship with Reynobond manufacturer Arconic
Grenfell Tower refurbishment cladding contractor Harley Facades was keen to use Reynobond ACM panels on the project because it had used the product several times before and trusted the manufacturer's quotes on costs, the inquiry into 2017's fire disaster has heard.
Former Harley commercial manager Mark Harris was questioned extensively about the firm's product recommendations for the ill-fated project when he appeared before the inquiry via video link on Thursday.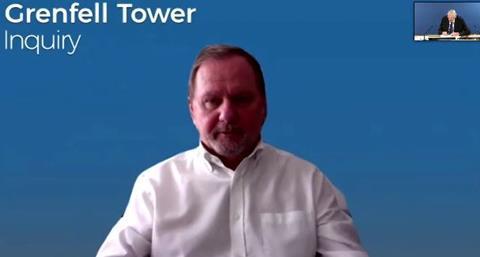 Harris rejected the suggestion that the firm had "pushed hard" for the use of aluminium composite material (ACM) panels for upgrade work on the west London tower block, or that Harley had a special relationship with Reynobond supplier Alcoa, subsequently called Arconic.
Project architect Studio E originally proposed zinc cladding in its Grenfell Tower refurbishment concept designs for client the Kensington and Chelsea Tenant Management Organisation.
Harris told Thursday's hearing that Harley had contacted Studio E after it found a lead about the Grenfell refurbishment some time before the project was formally put out to tender.
He said the potential to use ACM had been mentioned when he and Harley director Ray Bailey had an informal meeting with Studio E associate Bruce Sounes and former employee Tomas Rek for an informal meeting at a Southwark restaurant in September 2013.
Harris said Harley's previous work on ACM tower block projects – such as Ferrier Point in Newham, delivered with Grenfell main contractor Rydon – had been discussed.
Inquiry barrister Richard Millett QC quoted an email from Sounes in which he recalled that Harris said Harley's "recurring experience" was that budgets forced clients to adopt the cheapest option, which was face-fixed ACM.
Harris agreed that was his experience. "I just can' t remember in 32 years [of doing this job] where budget hasn't been an issue," he said.
Millett pointed to subsequent email correspondence between Studio E and Harley on the cost-effectiveness and suitability of ACM and suggested it was evidence Harley was "pushing Reynobond ACM, or at least ACM, pretty hard".
Harris said "no", adding that he considered that Harley was "advising" of ACM as an option.
"This is pre-fire at Grenfell," Harris said. "So, so at that stage, from Harley's point of view, having successfully completed multiple projects with this same product, as far as we were concerned it was a good product for that application. Hundreds of others did all over the UK and throughout the world.
"We weren't sitting there thinking anything but [that] this is a really good product for this application and may prove a good solution for Grenfell Tower."
A total of 72 lives were lost when Grenfell Tower caught fire in the early hours of 14 June 2017. The first phase of the Grenfell Tower Inquiry found that the polyethylene-core ACM cladding fitted to the building was the principal reason that fire spread so rapidly across the block.
On Thursday, inquiry barrister Millett asked Harris about another email in which he provided prices of cladding options to Studio E's Rek and noted "…from a Harley selfish point of view, our preference would be to use ACM".
Harris added in the email: "It's tried & tested (on many Harley projects ) and we are confident in the cost base." But he said that as an envelope contractor the firm would be "happy to clad the build in the material of choice".
Millett asked Harris whether he had been trying to dissuade Studio E from backing alternative products, such as zinc Proteus HR cladding manufactured by KME that was quoted for.
"Not at all," he said. "We would have been delighted to have used Proteus HR because it was a much higher value. There was no interest to Harley in pushing the cost down."
But Harris said an "awful lot" of product specification comparison exercises ended up "at the same place" because clients never had the budget for more expensive options.
"ACM always proved to be a good product, a good price and solved a whole raft of issues for these types of jobs," he added.
He said Harley was "confident in the cost base" of Reynobond because Harley had used the product many times before, while it had "no way of knowing" whether the quotes it got for Proteus HR would turn out to be accurate because it had no prior experience with the product.
Harris was asked why Harley only proposed Reynobond ACM rather than other cladding brands as an alternative to Proteus HR.
"I think from a Harley point of view we'd had a stronger and more established relationship with the guys on the Reynobond side, so we based it on Reynobond but it could have been something else," he said.
Asked whether any incentives were provided for Harley to use Alcoa its Reynobond product over products from different manufacturers, Harris replied "no".
Harris accepted he had a stronger professional relationship with Arconic's then-UK sales manager Deborah French than with her counterparts at other manufacturers.
"Debbie had been really good, proactive in providing information, samples and things such as that," Harris said. "She did an awful lot of running around for us."
Harris, who has no qualifications related to façade engineering or regulatory compliance, earlier told the inquiry it was not his "remit in life" to keep up to date with technical things.
He said he had a long professional relationship with Harley director Ray Bailey and that his pay had been largely commission-based, complemented by a small retainer.
Harris said his commission had been 1% of the value of Harley's work on the Grenfell Tower project, making it approximately £26,000.
The inquiry continues.