Initiative organised by Museum of Architecture
Architects, engineers and designers have created an annual Gingerbread City – opened to the public this weekend – which this year explores the importance of green space in cities.
Madeleine Kessler Architecture and Tibbalds Planning and Urban Design developed the masterplan for the city, made entirely of gingerbread and confectionary.
With more than 100 individual gingerbread structures, the builders created a heavily populated centre, riverbanks, a green belt as well as a town hall, stadium and schools. The edible development was opened in Belgravia, London, on Saturday and is organised by the Museum of Architecture every year to help support it as a charity.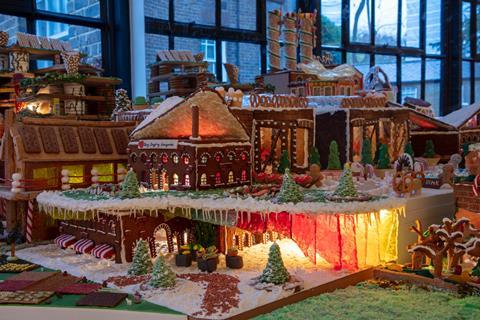 Melissa Woolford, founder and director of the Museum of Architecture, said: "We are so pleased to bring The Gingerbread City to life again this year and showcase such a brilliant range of innovative and sustainable design ideas.
"It is so exciting to see such creativity from those working in the built environment. I am sure our visitors will go home feeling really inspired by how introducing more nature into cities can make them happier and healthier places to live and work."
This year's city is built across five different environmental zones: forest and the green belt; forgotten spaces/city pollinators; urban farming; wilder urban riverbank and suburban riverbanks and flood plain.
It has four different model trains contributed by model railway brand Hornby, including the Santa's Express.
See below for a list of highlights and which companies created them.
Highlights:
Caramac Camping and Eco-Eclairs communal green space by Arup Foresight
Glace-tonbury festival centre by Townshend Landscape Architects
Tiramisu Towers office building by Hutchinson + Partners
Gumball Gasholder by Kohn Pedersen Fox Associates
Dammie Dodger by Stride Treglown
Doughnut Stadium by Chapman Taylor
Sundae Central Station by Hopkins Architects
Big Rock Candy Plaza park by Haworth Tompkins
The Ho Ho Highline by vPPR
The Field Beneath community green space by Smart Rewilding
Poppin' Popcorn Ponds by Nimtim Architects
Fungi Farm Factory by Penoyre + Prasad
Baking Riverside train station complex by Network Rail + Weston Williamson and Partners
Willy Wonka Wetlands water treatment plant by Michaelis Boyd
Honeycomb Cafe by LSI Architects
Battenberg Boathouse by The Manser Practice
Smarties' Marsh-mallow-land Research + Restoration Centre by Civic Engineers
Honeycomb Heights urban farm by Foster + Partners