Robert Evans said planners should be celebrated "for once" after last plot on Argent's £3bn masterplan receives approval
The boss of Argent's King's Cross development has called for planners to be celebrated following the approval of the £3bn masterplan's final plot, despite admitting that the planning system is now a "mess".
Argent partner and King's Cross Estate chief executive Robert Evans said the district represents a success story for planning and for planners, adding: "Both get a lot of stick. So just for once, let's celebrate them!"
But he admitted that the planning system is now "in a bit of a mess, to put it mildly", partly due to the "almost constant" reform since King's Cross first received outline approval in 2006.
Camden Council voted to green light detailed design proposals for the last plot of the original King's Cross Central masterplan yesterday evening.
Lee & Wilkinson Architecture's scheme will introduce a seven-storey office building on the island site, at the junction of York Way and Goods Way, immediately south of the Regent's Canal. It will deliver a total of 5,019sq m of commercial floorspace, with a self-contained office unit on the ground floor and a shop unit at ground-and-first-floor level.
Evans said the approval of the scheme was the culmination of an "amazing planning journey".
"Last night, I sat in the same council chamber, quite possibly the same seat, as the one I occupied in 2006, when the outline planning applications, listed building and conservation area consent applications were approved," he said.
"There is a lot of comment in our industry at the moment, about the planning system, about why it is failing and how it needs to be reformed. From my perspective, the almost constant reform since King's Cross was first approved has been part of the problem.
Evans added: "But with the right people and the right attitudes, it is still capable of handling complex projects like King's Cross, helping to transform our cities and communities for the better and manage the transition to carbon net zero."
Around 740,000sq m of development and 12 hectares of public realm has been approved since the original outline consent, almost all of it now either complete or under construction.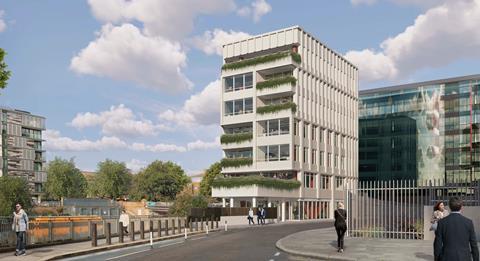 The latest site – known as plot F1 – was occupied by a petrol station until 2012, when the structure was converted into a temporary restaurant. The site was cleared in 2015 and a marketing suite for WilkinsonEyre's nearby Gasholders residential development was installed. It has since been repurposed as a restaurant and bar.
The building will feature first-floor and top-floor terraces, and its western frontage will have planting that overhangs from each floor.
Recommending the detailed designs for reserved-matters approval ahead of yesterday's meeting, planning officers said the Lee & Wilkinson proposals had "improved considerably" throughout the design process and had become a "high quality scheme" that would sit comfortably in the Regent's Canal Conservation Area.