Scheme neighbours site of huge planned development by British Land
The company behind a planned development in south-east London is to give work to additional architects, after its Bjarke Ingels Group (BIG) outline masterplan was green-lit.
Art-Invest Real Estate is reportedly looking for other practices to work on detailed designs for two ziggurat-style office buildings on the Canada Water scheme
BIG will remain on the project, working on a reserved matters applications for the tallest of the scheme's three buildings, a 110m tower composed of five stacked blocks twisting round a centre point.
Design teams for the other two buildings – which stand at maximum heights of 63m and 55m respectively – are expected to be announced in the early autumn.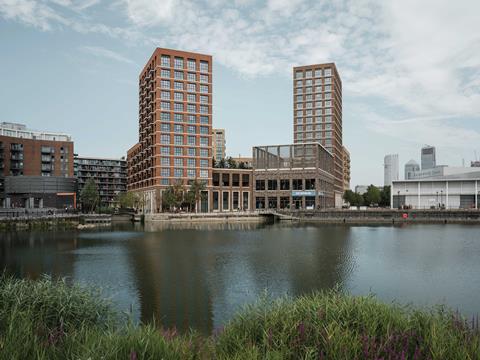 The 158,786 sqm site had previously been part of a wider site granted planning permission in 2013, which would have contained up to 1030 homes. Only Porters Edge, the first phase of this Maccreanor Lavington development was ever built.
The German developers' proposal, by contrast, is an entirely commercial development.
The scheme will be built adjacent to British Land's Allies and Morrison-designed redevelopment.
As well as office space BIG's designs include shops, restaurants, educational institutes, a leisure centre and a health centre.
The proposals were approved by Southwark Council's planning committee on Monday, 21 March.