Councillors approve row of two-storey, one-bedroom homes for disused garage plot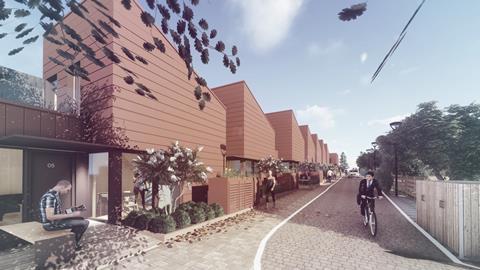 Bristol City Council has granted planning permission to an infill scheme of factory-built one-bed homes designed by BDP.
The practice's Gap House concept was originally launched at the Bristol Festival of Housing four years ago. Now a run of nine homes will be delivered on the site of disused garages at Bell Close in the city's Horfield suburb.
Units will feature open-plan kitchen-living areas and a bathroom on the ground floor, with a bedroom and storage on the first floor. According to planning documents, each property will have a gross internal area of 48sq m.
Entrances are designed to promote a "front porch culture" with green space and outdoor seating in front of each home to encourage social interaction and community cohesion.
The houses are highly insulated and feature low-energy lighting. They will use renewable energy generated by solar PV panels and air-source heat pumps.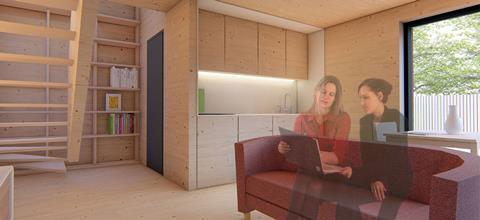 Martin Jones of BDP's Bristol studio said the practice was thrilled to be trialling the Gap House concept in the city.
"There are thousands of disused and run-down garage plots up and down the country that are ripe for intelligent repurposing, so we hope that this project will pave the way for other similar schemes," he said.
"The Gap House provides an opportunity to revitalise neighbourhoods, promote community cohesion and help address the acute housing needs of our cities and towns."
Developer Etopia is delivering the homes as a pilot for Bristol City Council.
The Gap House concept was created as part of an Innovate UK programme designed to explore the potential for MMC housing.