Grade II listed building will become eight-screen film complex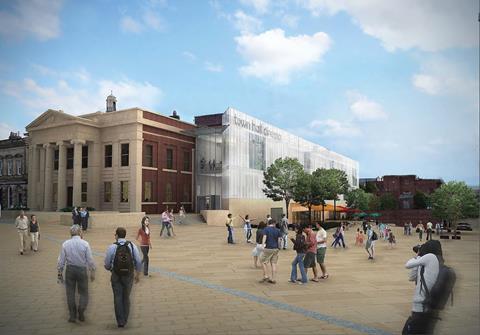 BDP's Oldham Town Hall cinema
BDP has secured planning permission for a £10 million redevelopment of the grade II listed Old Town Hall in Oldham to provide an eight-screen, 1000-seat cinema complex.
The design retains a number of the building's original features including a ball room, council chamber, courtroom and staircases.
The North West Design Review Panel said it "fully supported" the approach taken and agreed that the building's use as a cinema is "appropriate and likely to be commercially viable". English Heritage said it supported the overall design concept.
According to the Oldham Advertiser, BDP director Alan Davies told Oldham's planning committee: "It's not an easy building to bring back into use with lots of small rooms, corridors and different levels.
"To get to this stage a considerable number of issues were considered but this was the best solution for the building and the town as a whole."
The town hall was built in 1841, with extensions in 1877 and 1917. Council officers left the building in 1978 and the building has been completely vacant since the last courtroom closed in 1995.
To see the planning application documents, click here.