Practice snaps up firm £2.1m turnover firm in second of a string of planned acquisitions
Aukett Swanke has purchased smart workplace distributor Anders & Kern for £560,000 in the second of a series of planned acquisitions.
The Islington-based practice announced the takeover of the £2.1m turnover firm, a subsidiary of SmartSpace Software, this morning.
Anders & Kern provides hardware, software and installation services for room and desk booking systems. It also supplies sensors for monitoring environmental and occupancy data which can be analysed using AI to provide insights to improve occupier experience.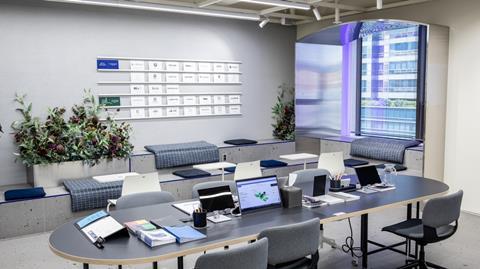 The firm employed around 11 people and made a loss before tax of around £170,000 in the year to 31 January 2023.
A restructure since that date has seen its staff drop to seven, and Aukett Swanke says the firm is now trading profitably with revenue expected to increase this year compared to 2022.
The move follows Aukett Swanke's acquisition of £7m-turnover smart buildings services firm Torpedo Factory Group (TFG) in March.
The country's only listed practice said in April it was eyeing opportunites for acquisitions to develop its expertise in the smart buildings market.
Aukett Swanke chairman Clive Carver said Anders & Kern "has been known to TFG for some time, and the board believes that TFG's systems and resources will enable [Anders & Kern] to scale faster."
Aukett Swanke Group reported a turnover of £8.5m in the year to 30 September 2022, down from from £8.9m for the previous 12 months. It made a pre-tax profit of £211,000 in the same period, compared to a loss of £308,000 in 2021.
Major projects completed by the practice during the period included the STEAMhouse development for Birmingham City University and the 21,300sq m Featherstone building in Shoreditch. Aukett Swanke was appointed as the executive architect for the latter project, which was designed by Morris & Co.
Projects in progress include the AHMM-designed Hollaway Park former womens' prison site for Peabody and two buildings on Moorgate.