Chancellor announces unprecedented lifeline for firms and VAT holiday
Rishi Sunak has announced the government will pay staff wages to keep businesses afloat during the coronavirus crisis, in a move welcomed by the RIBA.
Announcing a raft of "unprecedented" emergency measures, the chancellor promised government grants to cover at least 80% of the salaries of employees at risk of losing their jobs because of the crisis, up to a total of £2,500 a month.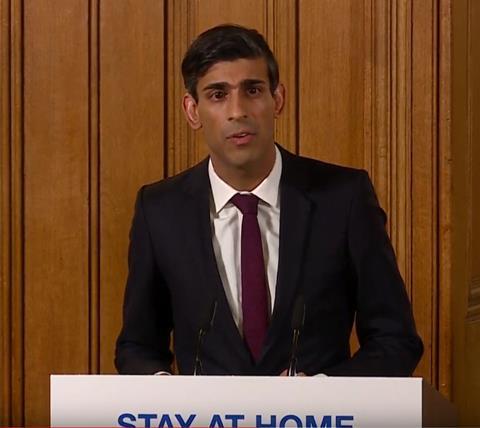 He said: "For the first time in our country's history, the government is going to step in and pay people's wages.
"Any employer in the country, small or large, charitable or non-profit, will be eligible for the scheme.
"That means workers in any part of the UK can retain their job even if their employer cannot afford to pay them."
The scheme, which will cover the cost of wages backdated to March 1, will be open for at least three months and longer if necessary, with no funding limit.
The chancellor said: "I can assure you that HMRC are working night and day to get the scheme up and running and we are expecting the first grants to be paid within weeks."
Self-employed workers will also receive support in the form of a suspension of the minimum income floor and a measure allowing self-employed workers to access universal credit payments at, Sunak said, "a rate equivalent to statutory sick pay for employees".
Responding to criticism from some firms of the government's £330bn rescue package announced on Tuesday, Sunak also extended the interest-free period of the coronavirus business interruption loan scheme from six to 12 months, with the first loans available from Monday.
He also said that all VAT payments for businesses would be stopped from now until the end of June, with firms given until the end of the financial year to repay the bills.
Reacting to the announcements, RIBA chief executive Alan Vallance said: "We are encouraged by the financial measures announced this evening and hope they will provide much-needed support for practices to retain staff and manage cash flow. The RIBA is engaging with the government on a daily basis and this latest package of support reflects proposals we put to the chancellor earlier this week. We will continue to ensure the concerns of our members are heard, understood and acted upon."
Hannah Vickers, chief executive of the Association for Consultancy and Engineering, said: "The chancellor's interventions are unprecedented. Business leaders within our membership base, our industry and across the wider economy will breathe a sigh of relief to see significant support on wages, procurement process changes to ease cashflow pressure and delays to VAT.
"Taken together, these measures will ensure businesses can weather the storm of covid-19 and emerge fairly intact in the immediate term."
Trade unions and employers were united in their praise. TUC general secretary Frances O'Grady said: "This is a breakthrough. Employers can now be confident they'll be able to pay their wage bills."
And Carolyn Fairburn, the director-general of employers group, the CBI, said: "It marks the start if the UK's economic fightback – an unparalleled joint effort by enterpirse and government to help our country emerge from this crisis."
Marc von Grundherr, director at estate agent Benham and Reeves, said the measures "provide a glimmer of hope for many independent agents and big corporates, in particular, taking a large proportion of the weight from their shoulders where staff cost is concerned".
He added: "The ability to defer their VAT bill until the end of the year will also be a huge help."
The chancellor's measures followed a statement from Boris Johnson ordering all bars, nightclubs, theatres, gyms and leisure centres to close from tonight.
Johnson said the government was "telling" these outlets to close "as soon as they reasonably can and not to re-open tomorrow".
As of today, the number of people in the UK with coronavirus now stands at close to 4,000 after rising 22% in a day with the death toll at 177, up 23%.