It's AYA Shortlist Day! We'll be announcing the finalists throughout the day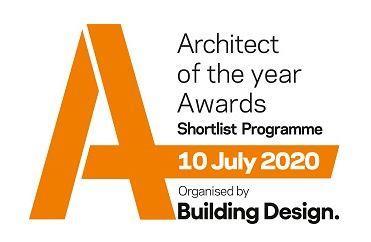 Building Design is hosting a packed programme of events today to celebrate the announcement of all this year's Architect of the Year Award finalists.
The hotly anticipated shortlists in 18 categories will be revealed throughout the course of the day in three tranches, starting with Building Design's prestigious Young Architect of the Year Award (YAYA) at 11am and ending with Architectural Client of the Year at 4pm.
The day's action will start at 9am when we publish the results of our survey on attitudes to social value and zero carbon in the light of the pandemic.
At 10am join us for our first discussion of the day when we invite back last year's YAYA laureates Gatti Routh Rhodes and previous winners Feilden Fowles and Christopher Lee of Serie Architects to talk about how they have built on their success.
At 1pm there will be a chance to put your questions and concerns about surviving a recession to three leading practitioners who have all survived more than one economic downturn.
Sumita Singha, founding director of Ecologic who is currently standing for RIBA president, Brendan Kilpatrick, senior partner at PRP, and Sam Jacob, director of Sam Jacob Studio and who co-founded FAT during a recession, will offer wisdom, experience – and hope. They'll be joined by accountant Alex Shall of Haines Watts.
Finally, at 3pm we'll be turning our attention to the subject of Building Design's relaunch at the start of this year – Designing Social Value. The magazine's editorial director Chloe McCulloch will chair a discussion with our social value columnist Flora Samuel, the founding director of Urban Symbiotics Stephanie Edwards, and HTA Design partner Riette Oosthuizen.
The shortlist announcements will be woven throughout the course of the day so keep checking back to the Building Design home page.
"This must count as one of the toughest years most architects have faced so we're delighted to bring some cheer and a sense of celebration to Friday's big shortlist announcements," said assistant editor Elizabeth Hopkirk.
"We'll also be offering some really practical support to hard-pressed practices with our programme of debates running throughout the day.
"We'd like to thank everyone who spent long hours polishing their AYA entries as well as the practice leaders who will be joining us on Friday to share their knowedge. Please join us here on the Building Design website on Friday."
The whole day is free to attend and you can sign up to watch the debates here.