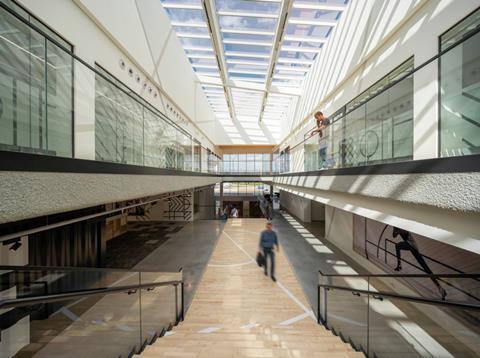 Providing maximum daylight and optimum indoor climate are key benefits of the Step solution, a new VELUX Modular Skylight system from VELUX Commercial. With its unique step structure, the new solution is specifically designed for larger glazed areas such as atriums and is suited to commercial buildings, both new build and refurbishment projects.
The new Step solution includes all the benefits of prefabricated VELUX modular skylights and provides the ability to customize each module with specific features, such as glass coatings, blinds and motorized venting. While the latter serves to better regulate internal temperature and ensure smoke ventilation, roller blinds and specialized coatings control temperature as well as the diffusion of light.
A holistic approach to sustainability enhances well-being and productivity inside buildings
When designing for daylight, you also design for occupant well-being. The new VELUX Step solution can support a healthy indoor climate by letting in more daylight and fresh air. It facilitates the design of healthier, more sustainable buildings which in turn support greater performance of both buildings and its users. Studies show significant positive effects of daylight and fresh air on productivity and performance inside buildings1,2. One study highlights that views to the outside can boost productivity by up to 6% and mental performance by up to 15%3. This results in enhanced effectiveness of working, learning and recovering processes. Proper ventilation can reduce the risk of allergies, while the correct levels of daylight and fresh air help improve the ability to learn and perform.
"The big advantage of our Step solution is that we have designed the rows to sit closer together, thereby creating more square meters of glazing and thus, letting more daylight into the building."

Kaspar Lohse - Technical Market Support, VELUX Commercial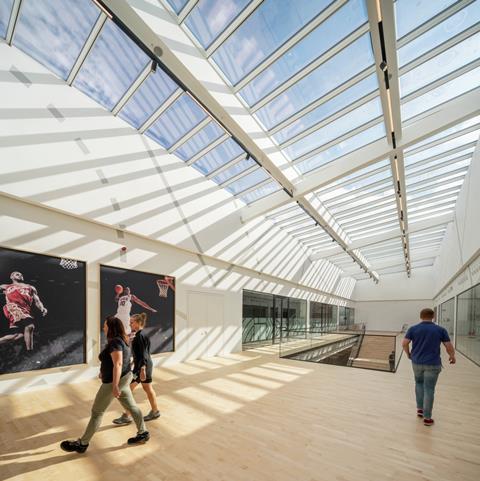 The new solution is available in three different configurations: Step Longlight 5-25°, Step Ridgelight 25° and Step Ridgelight 5-25° on Girder. Its minimalist design is based on a coherent and elegant structure with thin supporting beams. Due to hidden actuators, the venting modules appear identical to fixed modules when closed, creating a sleek and uniform aesthetic. Factory-finished flashings between each row ensures effective drainage of water from the roof.
Designed for an easy installation all year round
Due to its prefabricated nature, the new Step solution can be installed quickly and easily in all weather conditions. A unique joint bracket and clamping system as well as prefabricated cladding and flashing guarantees a fast and secure installation.
1. Galasiu, AD, Veitch, JA. Occupant preferences and satisfaction with the luminous environment and control systems in daylit offices: a literature review. Energy Build 2006; 38:728–742.
2. 2018 YouGov study
3. 5 Heschong Mahone Group (2003) Windows and Offices: A Study of Office Worker Performance and the Indoor Environment: http://h-m-g.com/downloads/Daylighting/A-9_Windows_Offices_2.6.10.pdf