Private homes being developed by the council
Mikhail Riches has won planning for 39 homes in the centre of a Devon town, on a site that has lain undeveloped for three decades.
The local authority-led scheme in Tiverton will involve two four-storey blocks containing one- and two-bed flats, plus nine two-bed houses and two three-bed houses in terraces leading down to the banks of the River Exe at the west of the site.
All the homes, clad in brick, render and slate, will be for private sale by 3 Rivers Developments, a special purpose vehicle created by Mid-Devon Council.
Mikhail Riches won the project in April last year, its entry picking up 65.3 of the 70 percentage points earmarked for design quality.
David Mikhail, director of Mikhail Riches, said: "This is an extraordinary site that presents an opportunity to complete an important piece of Tiverton's historic town centre right on the banks of the River Exe.
"Our scheme is informed by the historic pattern of development in Tiverton, responding positively to the townscape, topography and neighbouring listed buildings to create new housing that feels like it belongs to the existing town.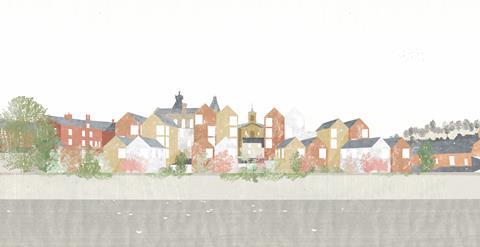 "We've worked to ensure that we can deliver an economically viable scheme that will unlock this undeveloped parcel of land, encouraging a mixed community within predominantly pedestrianised lanes that lead to a riverside garden."
He said the design was inspired by the historic pattern of development in Tiverton and the steep topography of the site, which rises eight metres from the level of the river.
The new buildings will step down from four storeys to two at the riverbank.
Three publicly accessible pedestrian "lanes" will run east-west across the site, linking the river to the road with cobbled footpaths, a style adopted from the historic town. The lanes will run through the two apartment buildings at ground level, giving them the appearance of four buildings.
The gaps between these buildings will allow for views from the river up to the listed St George's Church and Town Hall at the top of the slope.