Mayor of London says scheme set for 'off-site' construction could herald faster housing delivery for capital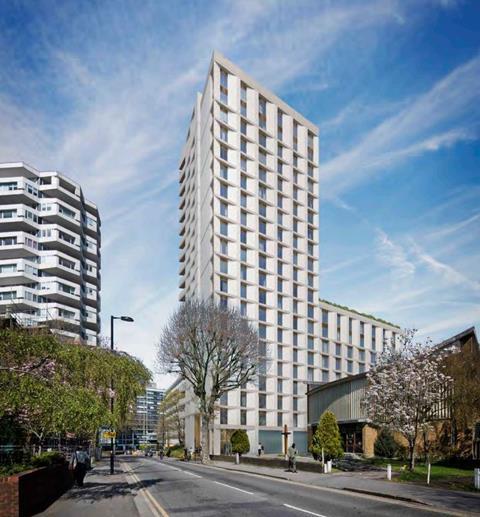 London mayor Sadiq Khan has praised a Metropolitan Workshop-designed tower for trailblazing off-site construction techniques that could speed up the delivery of housing in the capital.
The practice's 21-storey block, designed for developer Pocket Living, will deliver 153 new homes on a site in Addiscombe Grove, Croydon, a stone's throw from Richard Seifert's 24-storey NLA Tower, nicknamed the 50p Building for its distinctive shape.
Although Metropolitan Workshop's development received borough-level planning consent in November, Khan only conferred his mayoral approval this week – and in the process he praised the proposed construction method proposed for the block.
Last year the mayor struck a £25m deal with Pocket that targets the delivery of 1,059 new homes in the capital, of which more than one-third are supposed to be built off-site.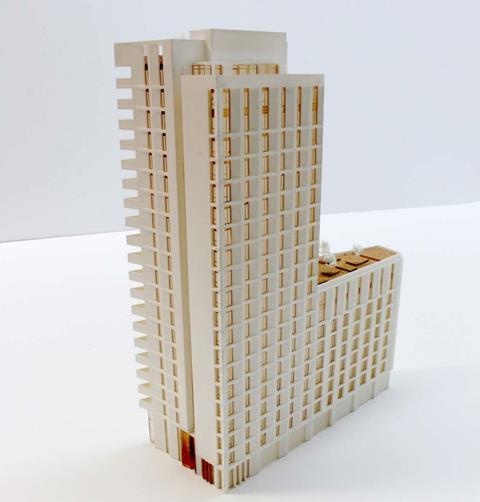 Khan said he hoped the scheme – which City Hall said was one of the tallest of its kind to involve off-site construction techniques – would promote greater use of such processes.
"Tackling London's housing crisis requires bold new approaches," he said.
"We know turning things round will take time, but off-site construction is an innovative way to speed up building the affordable homes our city needs."
He added that the deal with Pocket had hinged on the delivery of genuinely affordable homes that would be offered for sale to local people first.
Richard Brown, research director at the Centre for London think tank, said innovative construction methods were urgently needed if Khan's draft London Plan target of delivering 66,000 new homes a year was to be achieved.
"Manufactured homes are often more talked about than built, so it is positive to see how they can contribute to taller buildings on complex urban sites," he said.
"We hope this announcement will help to shift preconceptions about off-site construction."