Mayor of London looks to summer 2019 determination for radically revised Shoreditch plans
Developers Hammerson and Ballymore could get their reworked Bishopsgate Goodsyard proposals approved by London mayor Sadiq Khan in a matter of months – even though designs have yet to be formally lodged for planning.
The firms last week unveiled revised proposals for the 4.7ha site in east London created by FaulknerBrowns, Buckley Gray Yeoman, Chris Dyson and Spacehub. Earlier proposals featuring PLP Architecture residential towers of up to 46 storeys were ditched in 2016 and the practice walked away from the project.
The latest incarnation of the proposals includes 130,000sq m of offices along with 16,250sq m of retail space and a 300-bed hotel. A park is also planned for the top of the grade II-listed Braithwaite Viaduct.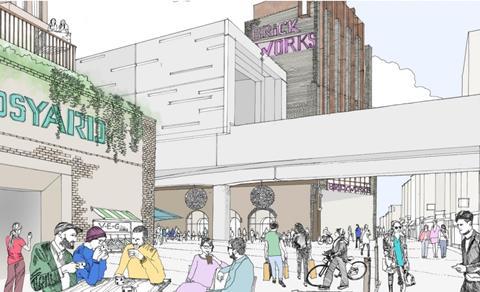 However the proposals' housing offer is massively reduced – from 1,356 homes to just 250, which are set to be delivered in seven- to 14-storey blocks.
The Goodsyard site straddles the boundary of Tower Hamlets and Hackney councils, but former London mayor Boris Johnson took over determination of the scheme from the local authorities in 2015. Sucessor Sadiq Khan will now determine the proposals.
According to an update on the project from City Hall, Hammerson and Ballymore last month signed a planning performance agreement with the Greater London Authority in relation to the scheme.
The GLA said it anticipated that the developers would submit an amended application before the end of this year and that a mayoral hearing for the propsals was expected to take place in "summer 2019". Despite the changes, the developers are not intending to submit a fresh planning application.
Hammerson and Ballymore now expect to submit their amended plans in early 2019, following a further round of consultation.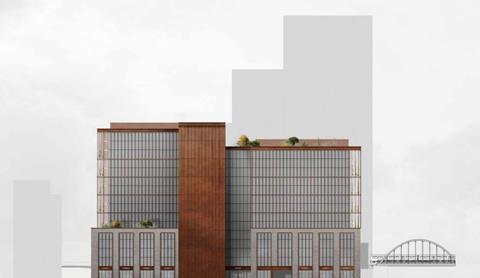 According to the GLA update, the authority plans to hire specialists Land Use Consultants to review the revised scheme's environmental impacts – as outlined in documents to be submitted by Hammerson and Ballymore.
It said fees of up to £30,000 for the work were expected to be reimbursed by the developers, under the terms of the planning performance agreement.
The scale of the earlier proposals was often cited as a concern by scheme opponents – which included both the elected mayors of Tower Hamlets and Hackney.
The tallest element of the current Bishopsgate Goodsyard scheme is a 29-storey office building. While the reduction in storeys suggests a drop in height of more than a third, the actual reduction in height from the earlier scheme's tallest element is less than a quarter – from 177.6m to 139m.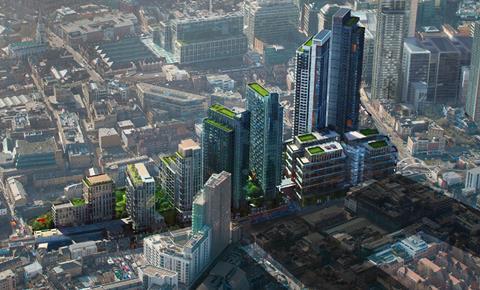 Postscript
This story was updated at 13:30 on 14 November to include additional information from Hammerson and Ballymore