Marcus Lee, Tadao Ando and Pope Benedict
Sofa politics
Marcus Lee is one of many architects who enjoys a tidy sideline renting out their home for films and photo shoots — including the John Lewis spring catalogue. Recently, however, he received an enquiry that he felt he could not accept.
An agency offered £7,500 a week to use his house for a TV show featuring Tony Blair and David Miliband. "My old house featured in a few porn mags," Marcus told Boots, "but the prospect of those two reclining on our sofa takes the biscuit."
Ageing gracefully
Legend has it Tadao Ando used to require members of his office to sandpaper down his buildings by hand but he is clearly growing less exacting in old age.
Manchester residents have launched a petition calling for his 2002 Piccadilly Gardens pavilion to be jollied up by engulfing it in greenery. Called by the Manchester Evening News, the 71-year-old apparently acknowledged the concrete structure "wasn't everyone's cup of tea" and backed plans for a living wall.
"Everybody has different perspectives and vision towards anything that exists," he noted with surprising magnanimity. "They can have very strong opinions or might be affected by trends or people around. I respect them all."
Sour mix
Always on the lookout for new jargon to make the ears bleed, Boots was introduced to a new one by the chief executive of the London Legacy Development Corporation.
The private and mostly public money behind West Ham's move to the Olympic Stadium was described by Dennis Hone as a "cocktail of funding". Andrew Boff, Tory leader at the Greater London Authority, had another phrase: "It is a disgrace."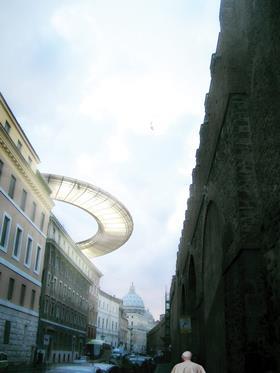 Closer to heaven
Benedict XVI's retirement begs the question of where the former pontiff is going to live. Architect 1 Week 1 Project — which true to its name knocks out one speculative project every week — has come to the rescue with a proposal for a penthouse in the shape of a gigantic halo, complete with library, prayer room and 360-degree views of the Eternal City.
Room service
Julie's, the old-school celebrity hangout in Notting Hill, is an unexpected victim of the use class relaxations/rush to find new uses for our dying high streets. The owner, with pound signs in his eyes, has caused uproar among loyal customers by drawing up plans to turn half the restaurant into flats.