Project will more than double display space for museum's photographic collection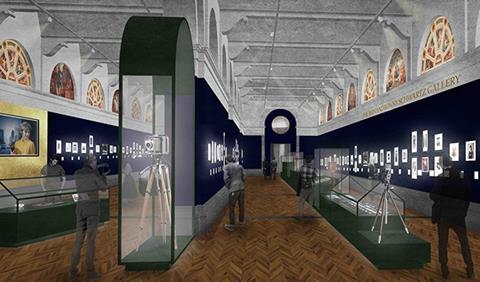 The first image of David Kohn's photography centre for the Victoria & Albert Museum has been released.
It is due to open in autumn 2018 and will more than double the display space dedicated to photography in series of upstairs rooms at the V&A.
It is the first part of a two-phase project to reimagine the display of the museum's photographic collection – both historic and contemporary – and falls under the FuturePlan programme.
Kohn's design was chosen from a competitive shortlist. It pays tribute to the V&A's 19th-century picture galleries while introducing modern interventions including lighting and climate control.
A modular design will be used for the display cases which will hold the exhibits – photographs, cameras, publications and archive material – and allow them to be reconfigured easily.
David Kohn said: "We are delighted to be working with the V&A and their curatorial team on this landmark project, not least because of my personal passion for photography.
"Our approach has been to offer visitors the widest range of ways to engage with this world-leading collection, framed by the stunning architecture of the refurbished galleries."
David Bickle, director of design, exhibitions and FuturePlan at the V&A, said: "We were delighted with the quality and inventiveness of DKA's submission for the V&A photography centre, which answered the brief in the most effective and creative way.
"DKA's design fuses traditional gallery spaces with new interactive interventions that will completely revolutionise how visitors engage with the V&A's photography collection."