North-west London borough approves 27-storey residential-led tower
Brent council has given the green light to proposals to redevelop an industrial site in Alperton with a 27-storey structure by FAL Architects that will be the borough's highest.
Members of its planning committee approved proposals to redevelop Minavil House, in Rosemont Road, with a residential-led mixed use scheme that will include 251 new homes, office space, a café and supermarket space.
The new structure will be 110m tall at its highest, and range in height from 10 to 27 storeys. Planning consultant Colliers said the new block would be Brent's tallest building.
It will occupy a 0.47ha site near the Grand Union Canal that currently hosts a two-storey 1960s building used by vehicle-maintenance and printing firms.
FAL drew up the proposals for developer R55 Group and affordable housing provider Genesis Housing Association.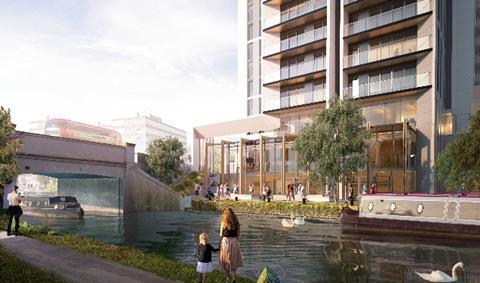 Practice director Nick Francis said Wembley's Alperton area had been "overlooked and neglected" despite having huge regeneration potential and that "achieving exemplary design" had been a key element of the project.
"We're confident that, in conjunction with public realm enhancements to create a sense of place, this development will play an important role in branding the area as one in which to live, work and play for generations to come," he said.
The developers said the scheme would deliver 92% affordable housing and that it would become the "central landmark" for the Mayor of London's Alperton Housing Zone.