Ceiling specifications can affect the sustainability, acoustics, fire resistance, visual appeal and cost-effectiveness of an office building, so it's an area
in which every decision counts. This module is sponsored by Armstrong
How to take this module

To take this module read the technical article below and click through to a multiple-choice questionnaire, once taken you will receive your results and if you successfully pass you will be issued automatically with a certificate to print for your records.

The ceiling is one of the most important aspects of any office fit-out. The correct specification can help to define the interior's aesthetics, thereby increasing its rental value. It can also play a vital role in the building's energy use and sustainability rating. It is functional too, as it is the obvious space to coordinate and conceal the myriad services that a modern office requires.
This CPD will explain the types of fit-out available, before examining the key considerations when specifying a ceiling and selecting a supplier.
TYPES OF FIT-OUT
There are various types of fit-out for offices, including:
Shell and core
This is the most basic type of fit-out for a new building. It includes the bare layout of rooms and services, including basement levels, corridors, toilets and plant rooms. In most cases, there will also be a raised floor to route other services. From this stage, the office fit-out can begin.
This is usually designed by a separate team and the works may also be carried out by a different contractor. Shell and core can be part of a speculative plan, where the offices are let out after construction of the building has begun.
Category A
If shell and core is the basic construction of the building and office areas, category (or cat) A is a rudimentary fit-out of that space. A typical cat A fit-out would include suspended ceilings, services such as air conditioning in the offices and carpet tiles over the raised floor.
This type of fit-out tends to be open plan, without partitions and is designed to show prospective occupiers what the office could look like. Companies could potentially rent the space without having to make too many changes to the layout and materials used.
Category B
This type of fit-out can vary dramatically, as the design is tailored to a particular client's requirements and budget. This will address office layout, the need for partitioning and, therefore, the potential upgrade of suspended ceilings and other systems.
The landlord may or may not contribute to this process, depending on the conditions of the lease. It is possible for a newly installed cat A fit-out to be ripped out and a cat B fit-out put in. In these instances, the ability to recycle ceiling tiles is vital (see "Sustainability").
Refit and retrofit
It is important to understand the difference between these two terms. A refit suggests that old materials will be taken out and replaced with new materials to refresh the space. It may also include a reconfiguration of the layout. A retrofit refers to minor changes to a finished office. This could be an upgrade of the lighting system or the addition of thermal mass panels, but most of the space will be unaltered. Refit projects have become increasingly popular, representing 45% of all fit-outs carried out in London. The remainder of the work is new build, retrofit and conversion.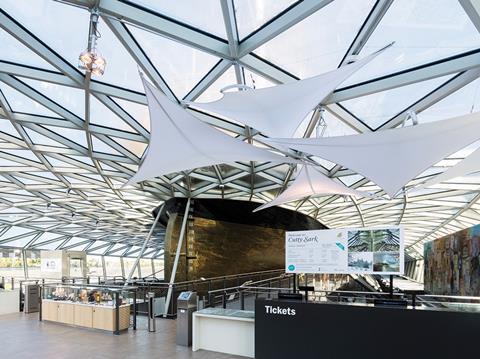 CONTRACT TYPE
Contract type is an important factor when considering a fit-out. A traditional contract deals with the design separately. The design team is employed by the client, the finished design is then tendered and a main contractor is appointed to perform the fit-out.
The main contractor may hire subcontractors, to complete more specialist parts of the project.
A design-and-build contract means the main contractor is appointed at the start of the project and has an active role in the design of the fit-out. The client deals directly with the main contractor only. The main contractor is responsible for completing the project from design all the way through to handover.
Regulated design-and-build is intended for inexperienced clients or those who are unsure of what they require. The client directly appoints a consultant as an agent to ensure that contractors are performing well and that the costs of the project are reasonable.
DESIGN CONSIDERATIONS
Materials
The material specification may depend on the area of the office. Mineral and metal ceilings work well in open-plan and cellular offices. More luxurious materials such as wood or custom metal with special-effect paint finishes work well in feature areas such as boardrooms and receptions. Canopies and fabric solutions suit receptions and stairwells and areas with specific aesthetic needs. Designer grids can unite an expansive space, tying the whole ceiling system together.
Fire protection
Where required, fire protection is also an important consideration when fitting out a building. The suspended ceiling can provide additional fire resistance to certain structures, as long as fittings for services are insulated to ensure the same performance.
Part B2 of the Building Regulations addresses the prevention of the spread of fire through internal linings such as walls, ceilings or partitions. It gives a Euroclass rating for different installations, indicating the fire reaction performance required of the materials used.
Acoustics
Different materials and shapes of ceiling installation can drastically improve sound absorption and attenuation in areas where intelligibility is of vital importance.
For example, Armstrong's products were recently installed at Twydall School in Kent, which caters for children with cochlear implants. The solution involved 18 relocatable Axiom circular canopies with high sound absorption mineral ceiling tiles, eight Optima circular mineral canopies, and 160 concave and convex mineral canopies. The advice of an expert acoustician is often required for this.
Maintenance
Low maintenance costs are often a key requirement of offices, so suspended ceilings that are quick to clean, easily accessible and only require the occasional replacement of individual tiles are preferred. Using thermal mass ceiling tiles instead of air conditioning can reduce maintenance costs still further. It is also important to consider the ceiling's integrated services, such as long-life LED lighting.
Specialist areas
Back-of-house areas, kitchen and tea stations, toilets and corridors will all require slightly different solutions based on access, hygiene and, in shower areas, relative humidity.
Integration of services
A variety of building services can be mounted within the suspended ceiling system. These include:
Heating and ventilation grilles
Lighting
Information and safety signs
Fire detectors and sprinklers
Motion sensors
Data projectors
Speakers
Through careful design and planning, it is possible to coordinate these services into technical zones or channels, allowing large expanses of the ceiling to remain uncluttered and uniform.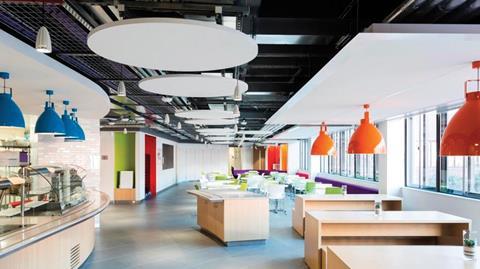 SUSTAINABILITY
Ceilings can contribute significantly to a building's performance under rating schemes such as BREEAM, LEED and Ska, which is specifically used for fit-outs. Two particular areas in which the ceiling specification can make a difference are energy efficiency and waste reduction.
Energy efficiency
Ceiling tiles can improve a building's thermal performance by including phase-change materials. These substances absorb or release heat when they change from solid to liquid and vice versa and can therefore be used to regulate internal temperatures and minimise mechanical ventilation, reducing a building's carbon footprint and running costs.
Recycling
Waste is a key issue in the fit-out industry, particularly as some cat A interiors are ripped out without ever being used. Products certified by rating schemes such as Cradle to Cradle can help to reduce the amount of materials that go to landfill. Cradle to Cradle tests products in five categories — ingredients, material reuse, renewable energy, water stewardship and social fairness — with the aim that old products are recycled and nothing should go to landfill.
MANUFACTURERS
Close working with the ceiling manufacturer can make an important contribution to the success of a fit-out project. A manufacturer can aid a project team by providing customised designs and support with compliance issues at all stages of the project.
At design stage, they can help with the selection of correct ceiling and module size, integration of services, design of bulkheads and unusual details. Their knowledge of fire testing and acoustics can help avoid costly mistakes.
At the quote stage, they can help to qualify the information required from bidders and with value-engineering, if budgets are a concern.
During installation they can help anticipate problems before they arise on site, speeding up the installation process and ensuring all deliveries arrive when required.
Other things to consider when selecting a manufacturer include:
A technical helpline.
An approved contractor scheme.
An active recycling programme, which can help to reclaim the original ceiling tiles before fit-out commences, as well as the cut-offs of new products going in.
The appropriate test reports, CE marking, product and system guarantees, and operation and maintenance manuals.
Environmental credentials such as Cradle to Cradle certification.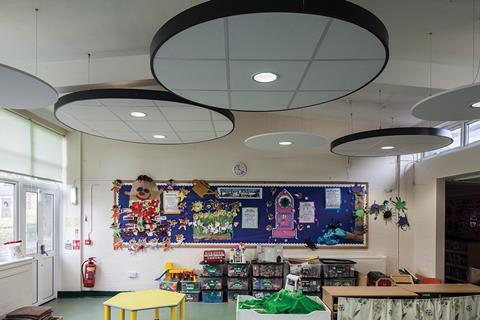 BD's free continuing professional development distance learning programme is open to everyone who wants to develop and improve their professional knowledge. These modules can contribute to your annual CPD ctivity and help you maintain membership of professional institutions and bodies.
This module will contribute 1 hour towards your CPD obligations. If successfully completed, certificates will be distributed two weeks after the module closes.
Duration: 1 hour
Module 6 Deadline: 25 April 2014

Postscript
Privacy policy
Information you supply to UBM Information Ltd may be used for publication and also to provide you with information about our products or services in the form of direct marketing by email, telephone, fax or post. Information may also be made available to third parties. "UBM Information Ltd" may send updates about BD CPD and other relevant UBM products and services. By providing your email address you consent to being contacted by email by "UBM Information Ltd" or other third parties. If at any time you no longer wish to receive anything from UBM Information Ltd or to have your data made available to third parties, please write to the Data Protection Coordinator, UBM Information Ltd, FREEPOST LON 15637, Tonbridge, TN9 1BR, Freephone 0800 279 0357 or email ubmidpa@ubm.com.