Solid surface is a man-made material, suitable for a range of interior and exterior applications. This CPD, sponsored by Avonite, outlines the key considerations for designers
CPD CREDITS: 30 MINUTES
DEADLINE: 24 JANUARY 2018
For more information about UBM's CPD distance-learning programme, click here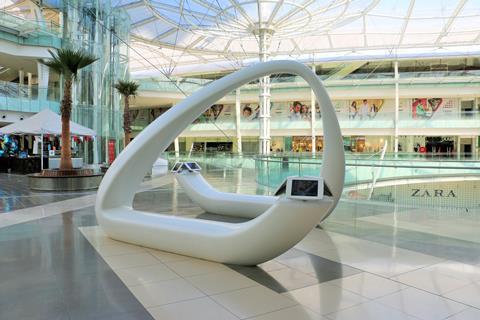 INTRODUCTION
Solid surface is a man-made material usually composed of polymer resins and the mineral filler alumina trihydrate (ATH), as well as pigments. It was first sold by DuPont in 1967 under the brand name Corian, but the patent has now expired and solid surface products are offered by a number of manufacturers.
Solid surface can be specified for a range of interior and exterior applications, including reception areas, restaurants, retail fit-outs, hospitals and laboratories, bathrooms, kitchens, furniture and lighting. It is available in a wide range of colours, finishes and sizes, offering considerable flexibility to the designer, and can be thermoformed into many different shapes.
COMPONENTS AND MANUFACTURE
The resins used in solid surface products are typically polyester or acrylic, or a blend of the two. Polyester resin is a thermoset polymer, malleable until it is cured, while acrylic resin is thermoplastic, pliable above a certain temperature but solid upon cooling. For solid surface products with acrylic resin, the ATH filler is therefore essential to enable cutting, shaping and sanding. Without the filler, acrylic resin is useful for other applications, such as sanitaryware and signage, where the acrylic sheet is thermoformed, not machined. Solid surface products made with polyester resins do not require ATH filler in order to be machined. This enables manufacturers to choose how much filler to use to achieve the desired result, balancing properties such as translucency and fire resistance.
Curing
Once formed, the material is heated to temperature of at least 60°C in order to chemically cure it.
Some manufacturers complete the curing process in ovens, before cooling it, to improve its heat resistance, a process known as thermal curing. The cured material is then cut into sheets and sanded.
Casting
Prior to the introduction of continuous casting, the liquid material was poured into stationary moulds to form sheets. The continuous casting process was developed to improve yields and reduce costs. It enables better quality, by automating the process and giving increased control.
Continuous casting can be carried out on either a single-belt or double-belt production line. A double-belt production line better regulates temperature and applies/absorbs pressure, gives better control over thicknesses and limits sheet warping, optimising the flatness of the surface.
Thermoforming
Solid surface is manufactured in sheets, but with the application of heat, can be formed into any shape. Solid surface sheets become supple and malleable when exposed to heat, and can be formed into shapes. Thermoforming can be used to create baths or basins, bespoke interiors or curved facades, for example. How well a material can be formed depends on its thickness, resin type, and chip content. Acrylic resin-based solid surface can be thermoformed to a tighter radius than solid surface based on a polyester resin or polyester/acrylic blend. Solid colours are more easily thermoformed than products that contain chips.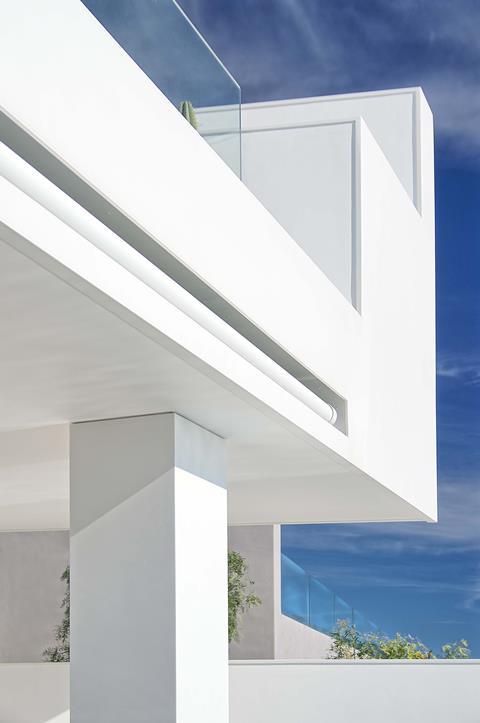 BENEFITS OF SOLID SURFACE
Durable
Solid surface is durable, easy to clean and simple to repair. Surfaces can be easily maintained or repaired, by sanding, polishing, or using patch kits on small areas of damage.
Hygienic
Solid surface materials are non-porous and do not harbour bacteria. This removes the need for harsh chemical cleaning agents, such as bleach. Solid surface manufacturers also offer a selection of sinks and vanity units, in a choice of sheet colours. These can have a strong visual impact – for example, a worktop with an integrated sink – and the lack of joints means they are also more hygienic.
Easy to work
Solid surface products can easily be machined using ordinary woodworking tools, such as routers, saws, planers, lathes, drills and sanders.
Solid surface also offers a range of aesthetic possibilities to the designer, which will be considered below.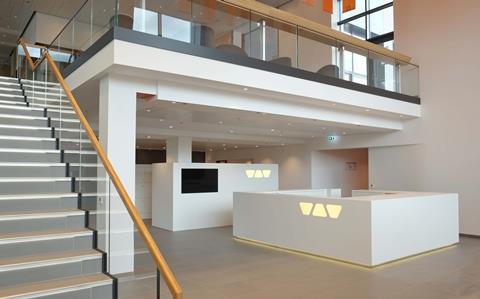 AESTHETIC CHOICES
Colour
Solid surface is available in hundreds of colours and textures, ranging from solid colours to sparkling, marbleised or veined effects. It can be used to mimic many natural products, such as limestone or granite. Some manufacturers offer the ability to create custom colours, for example to fit with an established brand identity, to match surfaces within an existing or desired design scheme. For outside use, colours should be chosen carefully with reference to the climate, orientation and application, to ensure that they will not fade.
Translucency
Some manufacturers offer solid surface products in colours that are translucent. An alternative means of achieving translucency is to cut a pattern using a computer-controlled router and backlighting the motive. Direct lighting, with an LED rail, will give a pixelated, twinkling effect. Indirect lighting, where the LEDs project onto a reflective surface, creates a diffuse lighting effect.
Joining
Solid surface manufacturers offer a range of colour-matched adhesives. To ensure that joints appear seamless, the manufacturer's fabrications guidelines concerning joint preparation, adhesive application, clamping and sanding should be strictly followed.
Engraving
Solid surface materials can be engraved by conventional carbide engravers and laser engravers. Letters or logos are easily cut out by computer controlled routers. Casting resin can be utilised to achieve an inlay appearance.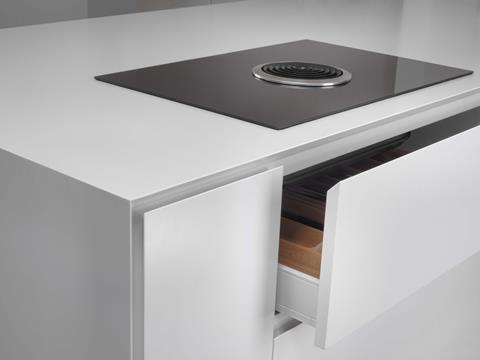 SPECIFYING SOLID SURFACE PRODUCTS
Sheets typically come from the factory with minor linear sanding lines, and a 60 micron (280 grit) finish on the face. Satin and polished finishes are the most popular, but a matt finish is also achievable following the recommended finishing steps in the manufacturer's fabrication guide.
The appropriate thickness will depend on the intended use. The most common, standard sizes are 3mm, 6mm and 12mm. Thicknesses of 3mm and 6mm are appropriate for vertical applications. 3mm thickness sheets are an alternative to laminate as a furniture or worktop covering, but can only be used where there is no heat source nearby. For horizontal applications which will be exposed to heat, structural applications or external facades, a 12mm sheet should be specified. Some manufacturers also offer sheets of a thickness of 9mm or 19mm.
Care should be taken to specify the right size of sheet in order to reduce waste and the number of joints required. The use of large sheets reduces the number of joints required. Fewer joints means less adhesive, less labour and therefore less cost to the end user. Sheets are available in a standard maximum length of 3,660mm, and a standard width of 760mm. Other common widths are 914mm, 1,067mm, 1,219mm, 1,370mm and 1,520mm. Some manufacturers also offer bespoke sheet sizes for higher volume applications. For example, Avonite offers widths up to 1,520mm, lengths up to 5,181mm and thicknesses between 3mm and 19mm. These longer, wider products mean fewer seams, less labour and shorter fabrication times.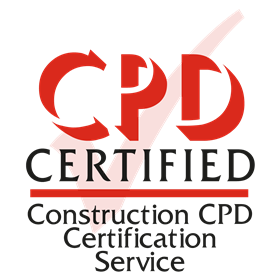 How to take this module
UBM's CPD distance-learning programme is open to anyone seeking to develop their knowledge and skills. Each module also offers members of professional institutions an opportunity to earn between 30 and 90 minutes of credits towards their annual CPD requirement.
This article is accredited by the CPD Certification Service. To earn CPD credits, read the article and then click the link below to complete your details and answer the questions. You will receive your results instantly, and if all the questions are correctly answered, you will be able to download your CPD certificate straight away.
CPD CREDITS: 30 MINUTES
DEADLINE: 24 JANUARY 2018

Privacy policy
Information you supply to UBM (UK) Ltd may be used for publication and also to provide you with information about our products or services in the form of direct marketing by email, telephone, fax or post. Information may also be made available to third parties. UBM (UK) Ltd may send updates about Building CPD and other relevant UBM products and services. By providing your email address you consent to being contacted by email by UBM (UK) Ltd or other third parties. If at any time you no longer wish to receive anything from UBM (UK) Ltd or to have your data made available to third parties, contact the Data Protection Coordinator at ubmidpa@ubm.com. View our full privacy policy at www.building.co.uk/cpd