This CPD, sponsored by Radiana, how radiant cooling works and why it can be an efficient method for reducing heat in a development without adding pressure to the climate.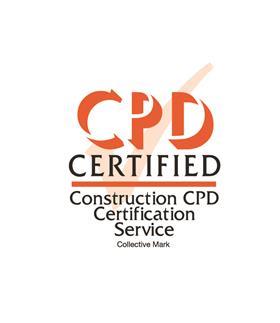 CPD CREDITS: 60 MINUTES
DEADLINE: 24 JANUARY 2020
For more information about Assemble Media Group's CPD distance-learning programme, click here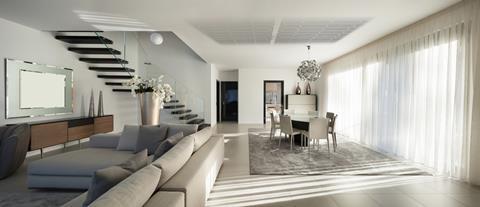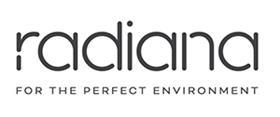 Introduction
With a view to saving money and mindful of the need to address the issues around climate change new buildings being designed today are aiming to be more energy efficient and environmentally friendly. Among a building's biggest energy outputs are heating and cooling. Among the several technologies used by designers and developers to reduce the impact of the task of striking a balance between the needs of cooling a building is a radiant system. This CPD will look at how radiant cooling works and why it can be an efficient method for reducing heat in a development without adding pressure to the climate.
How radiant heating and cooling works
Radiant cooling cools a ceiling by passing cold water through the pipes which absorb the heat radiated from the rest of the room. Heat always travels to colder areas. Therefore, areas that are 'colder' will always attract heat rays to them. The hot 'rays' travel from the radiant heat element until they reach a surface, such as a wall, floor or piece of furniture. There are no hot or cold spots in an environment heated or cooled from the ceiling because radiation expands equally in all directions. This is recognised by certification by the International WELL Building Institute. The Well v2 standard only gives credits to radiant systems.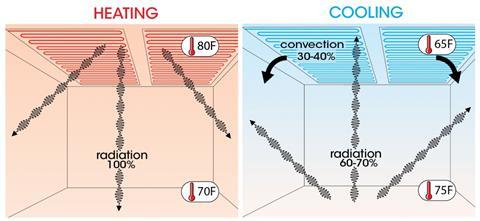 Thermal environment
Globally, the energy consumed by air conditioning systems in commercial buildings will have doubled during the last decade. In a typical office, air conditioning can account for over 30% of annual electricity consumption. In the UK our cities are becoming ever hotter. The urban heat island effect – where a metropolitan area is warmer than the surrounding area due to human activity – is not a new phenomenon, but countries like the UK are more exposed to the threats of extreme heat as summers get longer and hotter. Air-conditioning cools buildings but in so doing heats up the external environment.
Problems with current systems and dissatisfaction with the thermal environment in many buildings create arguments over temperature, cold draughts and fluctuating temperatures.
Radiant cooling and heating addresses these problems, increasing well-being, giving energy savings and reducing carbon footprint. The system uses water as the basis of transferring heat and as water is so much more efficient than air (water can transport 3,500 times more heat than the same volume of air).
Radiant cooling runs typically at 16 degrees centigrade rather than the seven degrees of traditional systems. This means that radiant cooling can lead to an energy saving of between 20 to 40%. This resulting in lower costs, lower CO2 emissions, typically by the same amount of between 20-40%, and reduced contribution to the heat island effect.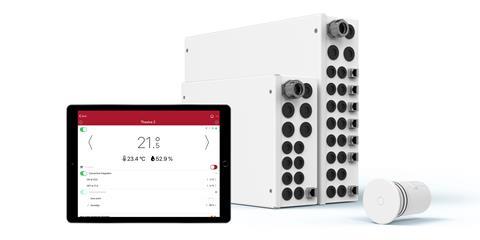 Energy efficiency/carbon footprint reduction
Globally air-conditioning is a significant contributor to greenhouse gas emissions. It is estimated that cooling in air-conditioning systems may account for around a 10th of total UK electricity consumption. In a typical office, air conditioning can account for more than 30% of annual electricity consumption.
The energy consumed by the air-cooling sector, globally, is set to increase by 90% by 2050. The energy demand from air-conditioning is high and is going to get higher. Full air conditioning will be demanded in more buildings to control summer temperatures. Therefore, the consumption of fossil fuels will also increase and therefore carbon emissions. Refrigerants used in air-conditioning are much more potent greenhouse gases than carbon dioxide (between 1,000 and 3,000 times). It has been reported that leakage from air conditioning is thought to contribute significantly to the global warming impact of air conditioning systems.
The European Union has a target to reduce non-CO2 greenhouse gas emissions by 60% between 2005 to 2050.
A study commissioned by the California energy commission and run by University College Berkley concluded that when radiant cooling is integrated as part of the overall design of the building an energy reduction of between 31-33% could be realised. In another study found the average potential savings of a radiant cooling system with dehumidification/ventilation was assessed as between 17-42% depending on the climate, building age and design. Energy savings are generally dependent on the design of the building, its location, the local climate and what system it is being compared to.
Increasingly our cities are getting hotter, while even countries like the UK are more exposed to the threats of extreme heat as summers get longer and hotter. Temperatures in the London are, on average, one to three degrees Celsius hotter than the surrounding countryside.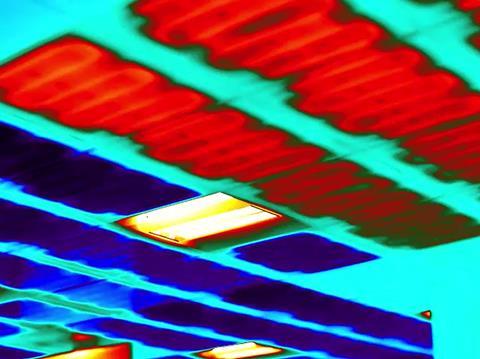 The London Plan
London mayor Sadiq Khan has an ambition to reduce the impact of the urban heat island in the capital. As part of his London Plan, Khan sets out the strategic goals in terms of addressing overheating and cooling.
As well as reducing the impact of the urban heat island in London the plan seeks to encourage the design of places and spaces to avoid overheating and excessive heat generation and to reduce overheating due to impacts of climate change and the urban heat island effect on an area-wide basis.
On the planning decisions front, major development proposals should reduce potential overheating and reliance on air-conditioning systems and demonstrate this in accordance with the following cooling hierarchy:
Minimise internal heat generation through efficient design
Reduce the amount of heat entering a building in summer through orientation, shading, albedo, fenestration, insulation and green roofs and wall
Manage heat within the building through exposed internal thermal mass and high ceilings
Passive ventilation
Mechanical ventilation
Active cooling systems, ensuring they are the lowest carbon options
Major development proposals should demonstrate how the design, materials, construction and operation of the development would minimise overheating and also meet its cooling needs. New development in London should also be designed to avoid the need for energy intensive air conditioning systems as much as possible.
WELL
WELL™ is the leading tool for advancing health and well-being in buildings globally. Originating in the US, it is being adopted in the UK for buildings where well-being is a real focus.
The next version of the WELL standard, WELL v218, has been developed and has been piloting for over a year.
Projects are already using v2 in the meantime. The new standard gives specific credits to thermal comfort:
Thermal zoning. Credits for multiple zones and individual control
Radiant Thermal Comfort. Credit is given to 'Hydronic radiant heating and/or cooling systems' if at least 50% of the project floor area is serviced by this system
Humidity Control. Credit is given if the mechanical system has the capability of maintaining relative humidity between 30% and 60% at all times.
It is important to note that traditional air systems are not eligible for credits for radiant thermal comfort.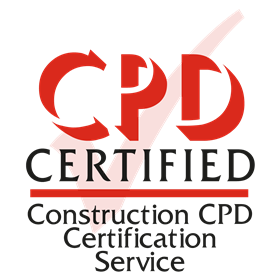 How to take this module
Assemble Media Group's CPD distance-learning programme is open to anyone seeking to develop their knowledge and skills. Each module also offers members of professional institutions an opportunity to earn between 30 and 90 minutes of credits towards their annual CPD requirement.
This article is accredited by the CPD Certification Service. To earn CPD credits, read the article and then click the link below to complete your details and answer the questions. You will receive your results instantly, and if all the questions are correctly answered, you will be able to download your CPD certificate straight away.
CPD CREDITS: 60 MINUTES
DEADLINE: 24 JANUARY 2020

Privacy policy
Information you supply to Assemble Media Group Limited may be used for publication and also to provide you with information about our products or services in the form of direct marketing by email, telephone, fax or post. Information may also be made available to third parties. Assemble Media Group Limited may send updates about Building CPD and other relevant Assemble Media Group Limited products and services. By providing your email address you consent to being contact by email, telephone, fax or post by Assemble Media Group Limited or other third parties. If at any time you no longer wish to receive anything from Assemble Media Group Limited or to have your data made available to third parties, contact the Data Protection Coordinator at building@building.co.uk. View our full privacy policy here