Building information modelling allows the whole team to work together on an integrated model that tracks the life of the building from design to eventual demolition. This CPD module is sponsored by Karndean Designflooring
How to take this module

To take this module read the technical article below and click through to a multiple-choice questionnaire, once taken you will receive your results and if you successfully pass you will be issued automatically with a certificate to print for your records.

Up until the 1980s, the main purpose of architectural models was as a presentational material, to show clients and stakeholders how a concept would look as a finished building. They were often made to a very high standard, but could be expensive, fragile and cumbersome. Drawing and modelling were also often laborious processes.
If major amendments were needed after technical information and costs had been fed into the detailed specification and tender package, you would literally have to "go back to the drawing board" and start again.
Advances in technology have allowed designers to cut the time they spend on models and drawings, and have also enabled greater accuracy of design. The introduction of more advanced computing into mainstream business during the 1980s saw computer aided design take off across a number of industries. Cad is used extensively to design everything from shampoo bottles to cars, trains and buildings. This has automated much of the redrawing and remodelling process.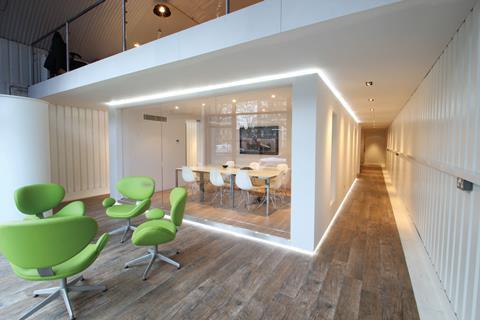 The introduction of 3D cad, which was developed in the 1980s but became more mainstream in the 1990s and 2000s, further increased the quality of design. With 3D cad there is no need for the designer to imagine how 2D objects fit together, therefore reducing errors.
Advantages of bim
Bim offers benefits for everyone involved in construction projects, including clients, designers, contractors, suppliers and facilities managers.
The government has recognised this, and adopted a strategy that all projects worth more than £5 million will be managed using bim by 2016. This is another good reason for companies to adopt bim.
Early design clarity
Late design changes can result in extra cost and delays to a project. With bim, architectural models, structural models and MEP models can be brought together to carry out virtual testing and highlight conflicting design decisions.
These errors can then be rectified very early in the process. For example, if an architect specifies a window and a structural engineer specifies a beam that conflict, this will be picked up immediately.
Likewise, if a specification does change, bim can be used to ensure that no new clashes are introduced. To give an example, if a 20mm hardwood floor covering is specified and the client demands a re-specification to 3mm LVT Designflooring, the bim software will alert the specifier to the conflict with door frame heights and door sizes.
Virtual testing
Bim allows the creation of a building virtually before it is built, so virtual testing can be done early on in the design process to ensure that standards are met.
Aspects of the design that can be tested include:
Consumption of energy
Carbon emission rates
Airflow
Daylighting
By visualising daylighting, for example, the project team can ensure that skylights are installed at the correct angle and the right size to let in sufficient light. This avoids the need to replace a non-conforming skylight at the end of a build, saving money and time.
Improved visualisations
Architectural models have come a long way since the pre-cad era of wood, cardboard and glue.
By using 3D studio maps, details can be highlighted and highly detailed planning undertaken, not just by the project team but by the client and end user. Bim visualisations can be used in a number of ways:
Simulating pedestrian use
Pedestrian simulations can be included to view the density of use and identify bottlenecks, flow rates, queue sizes, journey times and so on. Such information has been used to alter timetables for schools and determine optimum numbers of students.
3D parametric models can be used to identify the specifics of products used, for example, in walls and floors, as bim objects can include a variety of details.
Room loading can also be completed early on to ensure accessibility standards are met with the introduction of furniture, for example under the Disability Discrimination Act.
Time and cost are often referred to as the fourth and fifth dimensions of bim.
By incorporating all of the elements of a construction project, including the time scale, bim can establish sequencing early on in a project and flag up whether there are any potential clashes in the programme. This can avert delays and, by consequence, save additional costs. For example, when time is added to the model, detailed visualisations of the following can take place:
What is being done at any given moment
Activities on a certain date
What plant is needed
What hoardings are needed
Impact on the local area
At present, the major software packages do not automate this process and major revisions still need reworking, but it is a good start.
Cost information can then be added to form the 5D model, including:
Quantities
Labour
Schedule
Equipment
Rates can then be added, to better understand the cost of the build at a micro scale.
Bim Academy case study
The Bim Academy cites a real-life example from the US.
The use of bim on a recent project highlighted a structural beam conflict with a sprinkler pipe, enabling it to be immediately rectified.
If it had not been dealt with at an early stage, the conflict would have become apparent during construction, after all the structural supports had been set. In other words, it would have cost $4,664 per clash, which, as there would have been 10 instances per storey, would have risen to $46,640. And as it was a 15-storey building, the total cost would have been $699,600.
It would have incurred the following costs per clash:
$3,800 for replacing materials
$205 for removing the beam with a crane
$195 for installing the new beam with a crane
$464 for cutting the hole for the pipe in the beam
What is bim?
Bim is the next stage in developing architectural models and integrating them with the whole construction process. It is not a single piece of software, but an integrated digital process providing coordinated, reliable information about any given project. In effect, it gives meaning to what are, within cad, just shapes.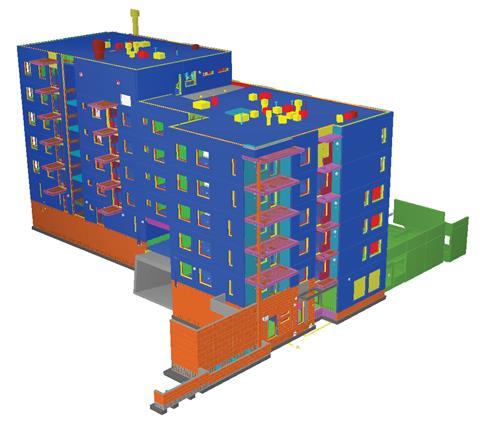 Though the most visible face may be the geometric model, bim is essentially a database of information from many different compatible sources, including 3D cad, which can be drawn on by all those involved in the construction, maintenance and eventual demolition of a building. This information may come from many sources, including:
Revit
AutoCAD
National Building Specification's (NBS) free online National Bim Library, which includes generic bim objects for systems and products such as walls, windows, doors, founda-tions, cladding and roofs. This will be launched at Ecobuild. Bim objects can include installation instructions and guidance on maintenance.
Plug-ins for factors such as environmental conditions, people flow, project management and life-cycle assessment.
The Bim Academy, a partnership between Ryder Architecture and Northum-bria University, describes the process as the "digital representation of physical and functional characteristics of a facility, creating a shared knowledge resource for information about it, [and] forming a reliable basis for decisions during its life cycle".
To take this module read the technical article below and click through to a multiple-choice questionnaire, once taken you will receive your results and if you successfully pass you will be issued automatically with a certificate to print for your records.

Company name: Karndean Designflooring
Website: www.karndean-commercial.co.uk
Karndean is a global leader in the supply of commercial vinyl flooring. We are specialists in both the design and innovation of commercial flooring, faithfully replicating the look and feel of natural materials. Our products take on the aesthetics of wood, stone and ceramic floors with none of the practical drawbacks and are available in either plank or tile format.
Postscript
MODULE 3 DEADLINE: 27 April 2012

Privacy policy
Information you supply to UBM Information Ltd may be used for publication and also to provide you with information about our products or services in the form of direct marketing by email, telephone, fax or post. Information may also be made available to third parties. "UBM Information Ltd" may send updates about BD CPD and other relevant UBM products and services. By providing your email address you consent to being contacted by email by "UBM Information Ltd" or other third parties. If at any time you no longer wish to receive anything from UBM Information Ltd or to have your data made available to third parties, please write to the Data Protection Coordinator, UBM Information Ltd, FREEPOST LON 15637, Tonbridge, TN9 1BR, Freephone 0800 279 0357 or email ubmidpa@ubm.com. View our full privacy policy at www.bdonline.co.uk/cpd