Ten-site programme targets 600 new homes over the next four years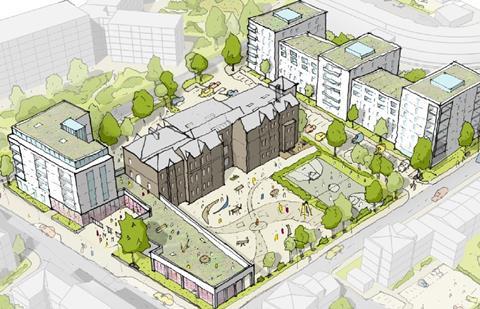 Conran + Partners' preliminary designs for the Angel Oak Academy site in Southwark
Conran & Partners has been selected to design a 600-home regeneration programme in the south London borough of Southwark.
The practice was appointed by affordable housing provider Clarion Housing Group as part of the Southwark Regeneration in Partnership Programme.
The £125 million programme takes in 10 sites across the borough and will also involve the design and delivery of new shops, employment space, schools and community facilities.
According to Clarion, 284 of the 606 homes it is targeting the delivery of will be let at council rents, while a further 94 will be earmarked for "low cost" ownership. The remaining 228 homes will sold at market rates to fund the regeneration programme.
Among the sites covered by the programme – known as SRPP's "Lot B" – are Angel Oak Academy, Copeland Road Car Park, the Fred Francis Centre, Summer House, and Wickway Community Centre. Also included is a petrol station in Old Kent Road, and land in Wyndham Road, Melon Road, Sumner Road and Parkhouse Street.
Conran & Partners has its offices in the borough at Butler's Wharf, near Tower Bridge, and has already undertaken an initial programme of consultation on the future redevelopment of the Angel Oak Academy site adjacent to Burgess Park, which includes a remodelled school and playgrounds, bounded by new housing (pictured).
Clarion said the Copeland Road site would be the first to get underway, with work expected to start this summer. It said the whole of the 10-site programme was earmarked for completion by the middle of 2021.