Scheme is also architect's first at King's Cross
Coffey Architects has submitted plans to Camden council for its biggest commercial project in the UK so far.
The three-storey office building at King's Cross - Coffey's first at the giant Argent regeneration site in central London - will contain 4,323sq m, most of it offices with the ground floor given over to retail and leisure.
Known as Q1, it is the former BD Young Architect of the Year's biggest commercial project in the UK. Its biggest job to date is in China, a 40,000sq m headquarters complex for the Qingdao Iron and Steel Group called Cloister. As it enters its 14th year, the expanding practice also has a large housing scheme under construction in the UK.
Q1's unusual shape has been determined by constraints at the site which has three Network Rail gasworks tunnels running 1m beneath it, according to planning documents.
These tunnels dictated the placing of columns and thus the structural grid, while the set-back of the neighbouring sports centre, designed by Bennetts Associates, and the desire to chamfer the main corner resulted in the irregular elevations.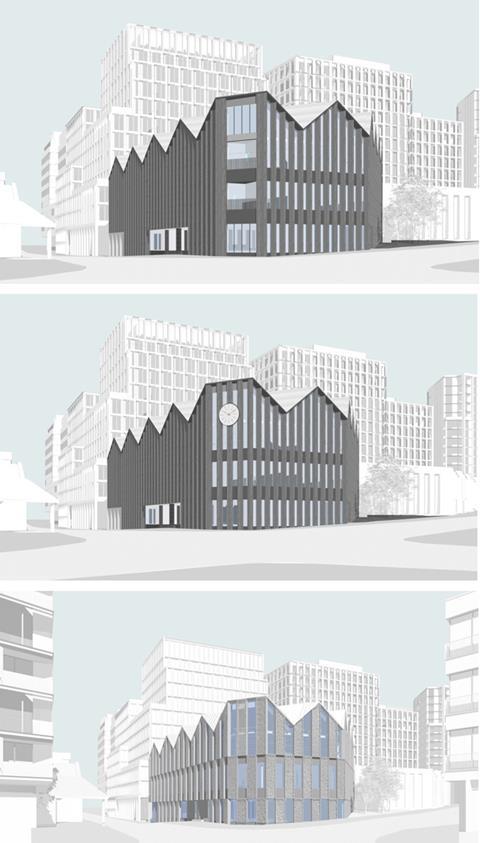 Another close neighbour is Duggan Morris Architects' 13,471sq m pink office block at the intersection of York Way and Handyside Street.
The building will be composed of glazed curtain walling and embossed and perforated aluminium panels and is capped with a pitched roof form with a diagonal emphasis following the lines of the tunnels.
Its steel frame and light composite concrete floors are designed to limit the weight on the tunnels.
Coffey Architects said in the planning documents the design was "inspired by the industrial shed vernacular" of King's Cross.
"This distinctive roof form therefore gives the proposed building a strong character and identity in relation to the surrounding, larger buildings," added the practice.
It will have outdoor terraces at the first and second floors, as well as 36 cycle spaces.