AEW's 'heritage inspired' Liverpool Street designs fail to impress planners
Fast-food chain McDonald's has been denied planning permission for proposals to install an AEW Architects-designed canopy outside its Liverpool Street Station branch in London.
Restaurant bosses wanted the freestanding structure to cover an outdoor seating area at their outlet, which is in a grade II-listed building that fronts the station's Hope Square plaza.
A design and access statement produced by AEW said their design had been "inspired" by the historic surrounds of the station, which is itself grade II listed.
But City of London planning officer said the design was "visual clutter" that would "detract from the special architectural and historic interest and significance of the listed building", as well as from the Andaz London Liverpool Street Hotel, which is also grade II listed, and the Metropolitan Arcade.
Recommending the scheme for refusal at Tuesday's meeting of the City's Planning and Transportation Commmittee, they said that with a height of 5m and a width of 14.5m the structure would be a "substantial addition" forward of the principal facade of the listed building and prominent in important local views from the junction between Liverpool Street and Old Broad Street.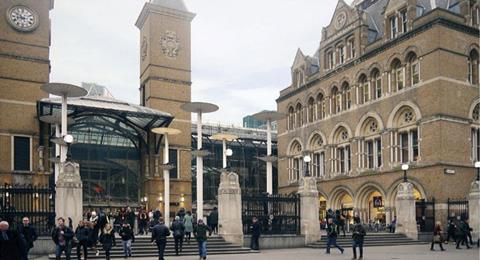 "Despite the relatively lightweight structure and glass roof, the structure would be unduly prominent and would obscure the ground floor elevation and, in closer range views, obscure an appreciation of the upper elevation," they said.
"It would not cover the whole breadth of the elevation, drawing attention to its alien presence and undermining the overarching symmetry of the architectural composition.
"The canopy would project forward, at a dominant scale in the immediate street and would read as an uncomfortable extension to the building."
They added that no detailed drawings had been submitted to accompany the application and that "additional clutter" was likely to be needed to allow the structure to function properly – drainage in particular.
Committee members refused the application in line with recommendations.