Twentieth Century Society bid protects Adam Kossowski work ahead of civic-centre redevelopment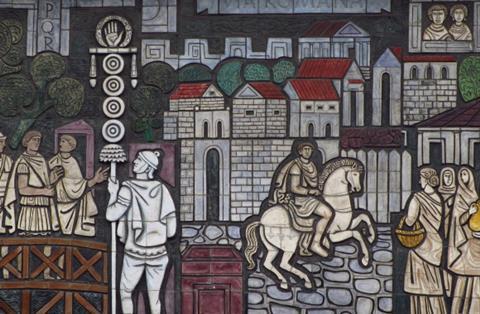 A section of Adam Kossowski's five-part Peckham mural
A five-part mural celebrating the history of south-east London's busiest thoroughfare has won grade II listing following a campaign by the Twentieth Century Society.
Polish artist Adam Kossowski's artwork traces the history of the Old Kent Road from Roman times to the 20th century, and is currently located at the base of the former Peckham Civic Centre.
However the building, now a place of worship run by the Everlasting Ministries Church, is earmarked for redevelopment and the C20 Society sought protected status for the mural to ensure it was not lost to the nation.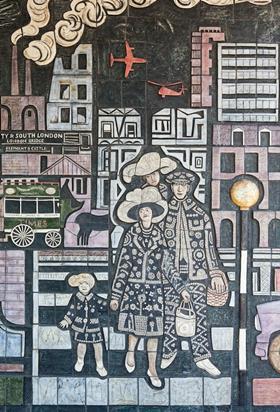 The artwork covers almost 100 sq m of the building, and features around 2,000 individually-cast coloured ceramic pieces depicting scenes from pilgrims travelling to Canterbury, Henry V's return to London following his victory at Agincourt, to a pearly king and queen using a zebra crossing.
C20 Society conservation adviser Tess Pinto said that she and director Catherine Croft were working with the would-be developers of the site to ensure that a new local home was found for the mural.
Pinto said that while the Old Kent Road was famous in its own right, it was local people who defined its character – a situation reflected in the mural.
"In the Roman section a boy gestures from inside an arch, inviting all who pass to engage with the past and thereby democratising it: history is ultimately comprised of the everyday," she said.
"Life-sized children look out from the mural – rather than being in profile – to engage passing children in both the streetscape and the history depicted."
Kossowski was persecuted by the Nazis but survived and made it to London in 1946.
He subsequently accepted commissions of tempera and ceramic pieces for the Catholic church, including work for including for the grade I-listed The Friars Aylesford and St Aloysius Church in Camden. He died in 1986.