Orms seeks to combine the heyday of West End art deco with historic conservation and careful urban stitching in a new music-centred district in the heart of London, writes Ben Flatman
The slightly seedy character and low rents of central London's St Giles area attracted music publishers to Denmark Street during the 20th century. London's "Tin Pan Alley" became home to the likes of NME and Melody Maker and its musical instrument shops and live music venues gave it a reputation as the centre of London's pop music scene.
By 2014, however, a blue plaque had been installed, marking the supposed death of the street's musical associations.
Now St Giles Circus, a massive new development designed by Orms and Ian Chalk Architects for Consolidated Developments and Outernet Global, seeks to salvage the area's reputation for music-making and live performance. The scheme consists of the restoration of most of Denmark Street and its 17th-century townhouses, as well as the massive new black and gold Outernet buildings.
Orms masterplanned the project and completed the design of all buildings on the north side of Denmark Street, apart from two residential buildings, which were progressed from Stage 4 by Ian Chalk Architects. Ian Chalk Architects completed the design of the buildings on the south side of Denmark Street from Stage 2. Alan Baxter Associates supported the work of both teams as heritage consultant.
John McRae, Orms' director, says the project is about "reigniting Tin Pan Alley and creating the next generation of music economy".
St Giles
Source: Wikimedia Commons
The St Giles area of central London has a long and varied history. It was the location of a medieval leper colony and the crossroads of Tottenham Court Road and Oxford Street was once the site of a gallows. By the 18th century it was known for its notorious slums, with Hogarth using it as his inspiration for Gin Lane.
But it is not just the area's music industry that has suffered over the years. Its architectural fortunes have been equally mixed. During the 1960s Seifert's Centrepoint arrived. Although elegant in itself, and now a familiar landmark, the building's impact at ground level was dire.
Renzo Piano's mediocre Central St Giles scheme from 2010 was pushed through by the then mayor Ken Livingstone and only reinforced the sense that this was an unloved corner of the city, underserving of anything more than wholesale redevelopment.
Marking the boundary between the City of Westminster and Camden, Charing Cross Road also developed a strange, neglected "edge" quality that often appears in the spaces between London boroughs. When Crossrail came along, necessitating widespread demolition and redevelopment above Tottenham Court Station, it provided an opportunity to reimagine what St Giles might be.
Orms and Ian Chalk Architects have seized this opportunity.
The site lies at the north-eastern end of Charing Cross Road, much of it directly above the new Tottenham Court Road Elizabeth line station. The area above the station was almost completely cleared during the railway's construction and this is where the most of the new-build elements now sit, with their huge digital displays.
The Outernet is extremely hard to define in terms of both typology and architecture. It is billed as an "immersive entertainment district", which doesn't really tell you what it is or do it full justice.
Architecturally it is dominated by two new buildings that face north towards Tottenham Court Road. Digital events spaces have been carved out at ground-floor level, with their massive screens available for product launches and video installations.
From the street, with their black stone and gold-coloured, titanium-coated, stainless-steel facades, they evoke an almost 1930s art-deco aesthetic. This is deliberate, and Orms points to the shamelessly glitzy commercial entertainment architecture of Birmingham's Harry Weedon as a key inspiration.
But, as you walk south between these two giant billboards for the West End and enter Denmark Passage, an intimate and soberly designed back alley, the architecture confounds expectations. Here the palette changes to reflect the hierarchy of the street plan. More muted glazed brickwork sits alongside the existing fabric of the rear elevations of the buildings on Denmark Street.
Denmark Passage is a historic passageway and the scale and detailing of Orm's architecture helps to celebrate the intimate and perhaps more secret side of London that so often tends to be swept aside in wholesale redevelopment projects.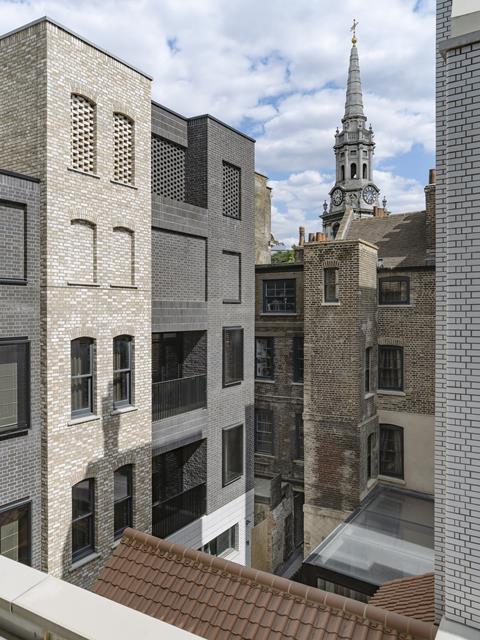 There is much more beneath the development, with the basement incorporating a new 2,000-capacity live events space, called HERE. Enjoyably, the entrance to this mega-venue is through a discrete entrance from Denmark Passage.
Camden council wanted the site to have more north-south porosity, so a new passageway called Now Arcade (here the digital screens begin to feel a little like overkill) has been created, complementing the existing passage that runs parallel to this under 27 Denmark Street.
A significant amount of site consolidation has taken place, with most of the land owned by Laurence Kirschel's Consolidated Developments. But, on Denmark Street, rather than sweep everything away or go for bog-standard facade retention, listed building status and a desire to protect the street's character means that a careful conservation approach has been adopted.
Eight buildings have been restored and sympathetically extended along Denmark Street and St Giles High Street, six of which are grade II and grade II* listed.
Far from accepting the death of Denmark Street's musical associations the scheme seeks to reinvigorate them. Several of the old musical instrument shops have continued operating throughout the construction work – which was no mean feat for all involved.
And the landowner has worked with Camden to develop a new Tin Pan Alley use-class which means that the properties along the street will be prioritised for purposes relating to the music industry, including retail, publishing and performance space.
Both new and old venues have been incorporated. What was the 12 Bar Club has been relaunched as The Lower Third. Remarkably, during the Elizabeth line's construction, the grade II-listed, 17th-century blacksmith's forge that used to be the back room of the former 12 Bar Club was placed on a concrete foundation, lifted out of the site and has now been returned to its original location.
Careful attention has been paid to the mix of uses across the wider scheme. A new hotel, Chateau Denmark, offering rooms and apartments, occupies a number of the upper floors along Denmark Street.
New commercial office space sits behind a retained facade on what used to be St Giles High Street and is now the newly created St Giles Square, and a massive restaurant unit sits above the building that faces onto Charing Cross Road.
Orms has taken on a complex piece of central London and produced a richly textured piece of new urbanism. Whether the homage to Harry Weedon has fully paid off is up for debate, but the way in which Orms has managed the transition from the large, public-facing buildings, through Denmark Passage and into Denmark Street is commendable.
London has always been rich in contradictions and jarring juxtapositions. This scheme celebrates this side of the capital's character as much as is possible within the constraints of contemporary commercial development.
The site and architecture encapsulate the way in which architects in London increasingly have to juggle the pressures for greater density against a desire to preserve what is left of the historic city. Orms has not only made a significant contribution to the resurrection of Denmark Street as a focus for London's musical culture, but also respected and enhanced the enticing appeal and borderline illicit qualities of its shadowy alleyways.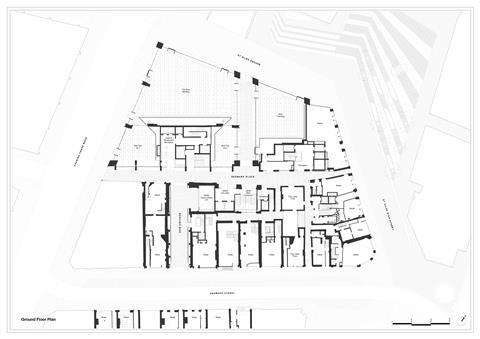 Postscript
This article was edited on 10th May 2023 to reflect the contribution made by Ian Chalk Architects to the work undertaken on Denmark Street.