20 Frank Lloyd Wright homes are up for sale at the moment, but are they worth the pricetag?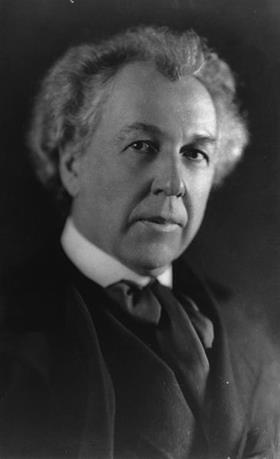 There are 20 Frank Lloyd Wright homes up for sale across America at the moment, the largest number in recent years according to the Wall Street Journal.
They range from a three bedroom home made of custom-made concrete blocks in Cincinnati listed at $1.78 million to the first building to utilise Wright's textile block building system listed at $5.25 million. You could also get your hands on a six bedroom Illinois home for $649,000 and a Minnesota home for $690,000.
But the value of these homes, built by America's most famous architect between the 1890s and 1950s, has significantly dropped in recent years after homeowners have become plagued with the buildings' flaws.
The homes feature small kitchens, not in keeping with modern design tastes, as well as narrow doorways and built-in furniture which limits storage space and flexible interior arrangements. They also have a reputation for leaking roofs and tight restrictions on alterations by conservation groups.
"We price [Wright's designs] as art, but they sell as houses," estate agent Laura Talaske recently told Chicago Magazine.
Talaske listed her own Wright home - a three-storey 1903 house in the Chicago suburb of Oak Park - for $1.6 million in 2010, $900,000 more than the purchase price in 1990. Three years later the asking price was dropped to $1.2 million.
That price "makes sense for a home of this size in Oak Park," Laura said, "but [ignores] the fact that we have 50 art-glass windows."
Even fully restored Wright homes can be hard to shift, resulting in steep markdowns.
The Buehler house in California first went on the market for $4.9 million in 2011. The house was designed in 1948 for Maynard and Katherine Buehler and features two streams and Japanese gardens by Henry Matsutani. There is also several 18-karat-gold-leaf ceilings, a guesthouse, a wine tasting room and all the original Wright-designed furniture included in the price. In 2012 the price was reduced to £3.9 million, and further still to $3.35 million last October. "We still haven't hit the right price, even with the market heating up," Gretchen Scheid, the estate agent who is handling the sale, told the Wall Street Journal.
The Millard House, built in 1923, in Pasadena has also reduced in price from $7.7 million to $5.25 million in the past five years, partly because the house is prone to leaking during heavy rainfall. Nicknamed La Miniatura by Wright, the owners carried out a $3 million renovation before putting it up for sale.
In comparison, Sharon and Lawrence Tarantino are selling their two bedroom home, which they call a 'work of art', in New Jersey for $2.5 million. But the home comes with an unusual twist. The two-storey house has become increasingly endangered by flooding from a nearby river. Despite over 13 years of restoration that cost the Tarantinos more than what they paid for the property, the prospective buyer must dismantle the building and move it to a new site.
Here are some of the houses on the market today:
Gerald B. Tonkens House, 1955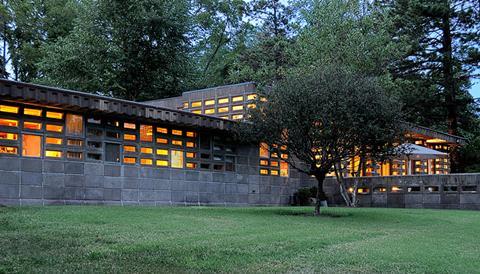 Location: Cincinnati, Ohio
Price: $1.78 million
This three bedroom home, set over four acres, is formed of eleven different patterns of concrete block with over 400 inset windows to let light in. Features include ceilings gilded in 18-karat-gold, a long library and gallery entrance hall, grand living and dining rooms as well as a seperate guest cottage. The home has 397 windows and a red tile inscribed with Wright's initials cemented above the front doorbell.
Bachman Wilson House, 1954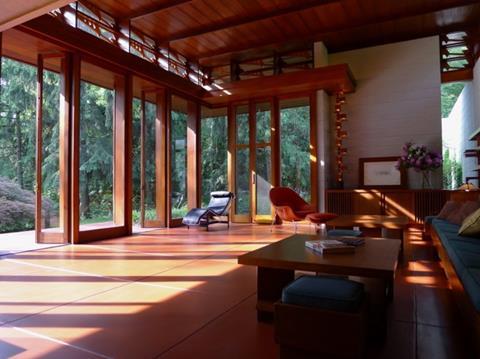 Location: New Jersey
Price: $2.5 million
During the mid-1950s, in addition to the Guggenheim Museum and Usonian Exhibition House projects, Frank Lloyd Wright was working on the Bachman Wilson House in nearby New Jersey. The house, now owned by Tarantino Architects, is in danger due to increased flooding of its location. With support of the Frank Lloyd Wright Building Conservancy, it is for sale contingent on relocation to a new site. Architecturally, the house is an open two-story pavilion with a stepped concrete base that supports transparent walls of wood and glass.
Dudley Spencer House, 1956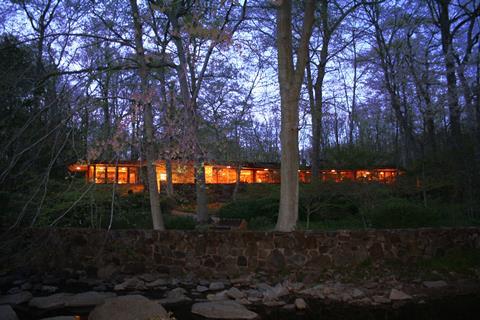 Location: Wilmington, Delaware
Price: $1.35 million
This single storey home, named 'Laurel' by Wright, is nestled in nearly seven acres adjacent to protected parkland. It is constructed of locally quarried stone and mahogany and features clerestory windows and red cement floors. Other features include three bedrooms with built-in storage, a massive stone hearth in the centre of the home, a loggia and custom made solid mahogany furniture.
Alice Millard House ('La Miniatura'), 1923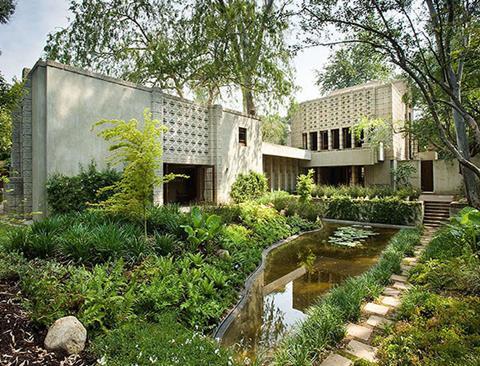 Location: Pasadena, California
Price: $5.25 million
La Miniatura is the first residence by Wright to use his highly inventive textile block building system. Sited on nearly an acre of gardens within the Prospect Historic District of Pasadena, the residence and studio includes four bedrooms, atwo kitchens, living room, formal dining room, and semi-attached garages. The Millard House is listed on the National Register of Historic Places.
William E. Martin House, 1902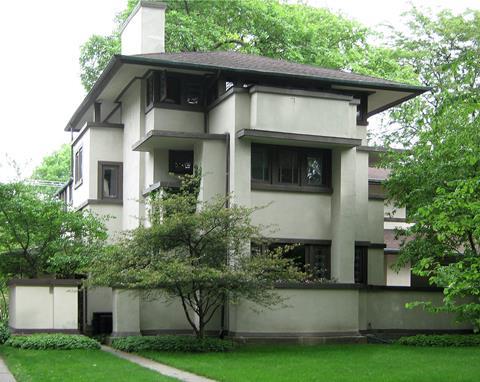 Location: Oak Park, Illinois
Price: $1.24 million
This five bedroom home is designed in a prairie style with cream stucco and bands of original oak trim forming a series of porches. The house features brick fireplaces, built-in carpentry and an open floor plan. There are five bedrooms, a third floor family playroom and billiard room on the lower level.
Andrew B. & Maude Cooke House, 1953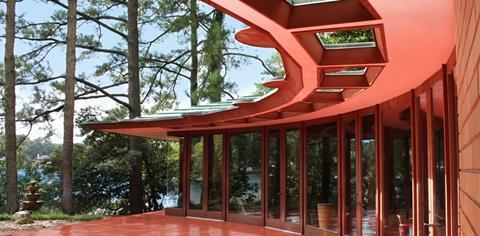 Location: Virginia Beach, Virginia
Price: $3.75 million
Located on Crystal Lake, a one hour flight from New York, this holiday home features a gym, sauna and a deep water boat dock with access to the Atlantic Ocean.
Heller House, 1897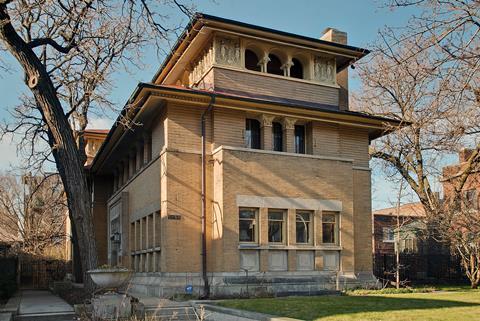 Location: Chicago, Illinois
Price: $2.42 million
This was Wright's first home in the Hyde Park neighbourhood of Chicago. The Heller house was designated a Chicago Landmark in 1971 and added to the National Register of Historic Places in 1972. In August of 2004, the house was designated a National Historic Landmark. The 6100 sq ft house features the original elevator, seven bedrooms, four bathrooms, four pantries and a garage.
No. 2 Millikin Place (Irving House), 1910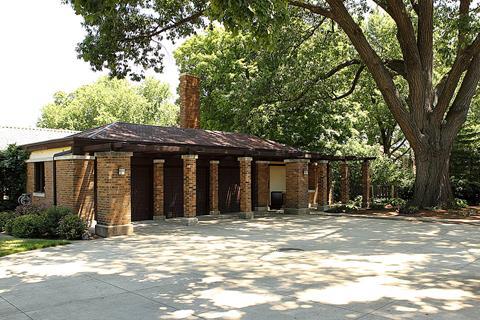 Location: Decatur, Illinois
Price: $649,000
Situated in a historic district close to Millikin University, this home was designed for Mr and Mrs E. P Irving and features six bedrooms, three bathrooms and 4,960 sq ft of living space. The kitchen has been refitted with granite countertops and solid oak cabinets. Unique features include a built-in grandfather clock in the reception hall and glass stairs that lead to the attic.
R. W Lindholm Residence, 1952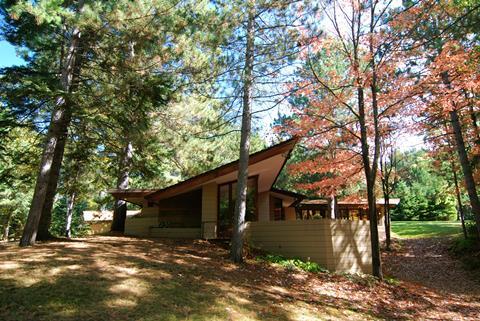 Location: Cloquet, Minnesota
Price: $690,000
The Lindholm house is located on fifteen acres of heavily wooded land and is bordered by a city park with lit cross country ski trails and hiking paths. The 2300 sq ft house features three bedrooms, two bathrooms, a study, lviing room with fireplace and a garage. Building materials consist primarily of painted concrete block and red tidewater cypress. It has reduced in price since going on the market at $975,000 in 2009.
Coonley House North Wing, 1909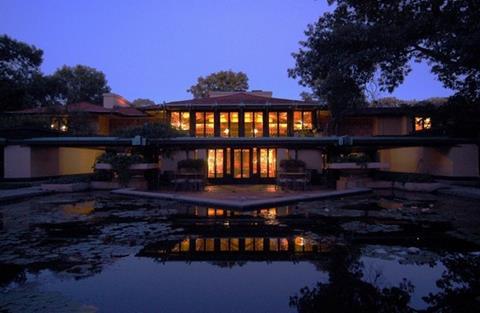 Location: Riverside, Illinois
Price: $2.25 million
The Coonley House was described by Wright as his 'best house' in his 1932 autobiography. The 6,000 sq m home features five bedrroms and five bathrooms as well as a reflection pool outside the first floor playroom and a summer house. A complete restoration of the public space and servant's wing of the Coonley House was undertaken and completed by the current owners from 2000 to 2004.
George Madison Millard House, 1906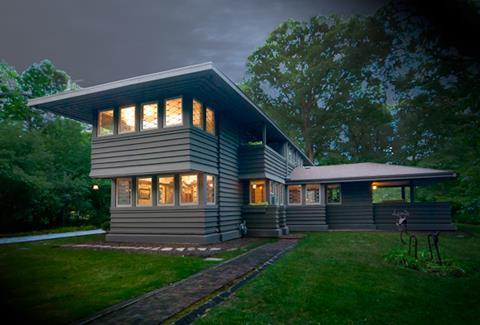 Location: Highland Park, Illinois
Price: $1.049 million
Located near Lake Michigan, this 3000 sq ft home features an open floor plan arranged around a large central hearth. There are 68 art glass windows, four bedrooms and a den on the first floor. There is an open air veranda which was restored in 2010.
The Alpine Meadows Ranch, 1909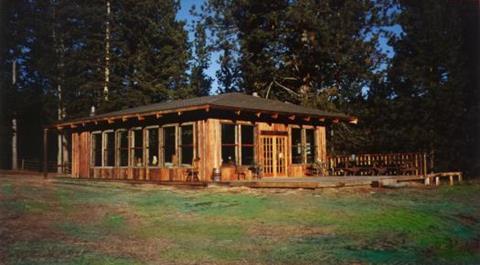 Location: Darby, Montana
Price: $5.6 million
Wright designed this prairie style ranch with a guest cabin in the early 1900's as part of the University Heights-Como orchards project. The house is set in 250 acres of forest and meadow with direct access to 1.2 million acres of National Forest Service.
George W. Furbeck House, 1897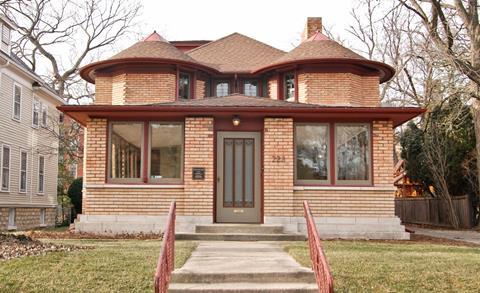 Location: Oak Park, Illinois
Price: $949,000
This house incorporates prominent octagonal turrets on either side of the front entrance and repeating octagonal themes in room plans. The 3900 sq ft home features five bedrooms, three bathrooms, a red tile patio and garage. Classic Wright details include overhanging eaves, stepped limestone foundations, rectilinear chimney and oak woodwork and cabinetry. The house was listed initially in 2010 at $1.1 million.
Maynard and Katherine Buehler House, 1948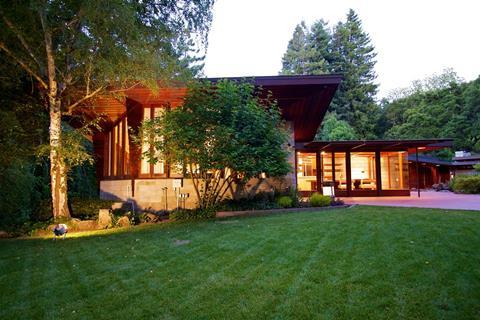 Location: Orinda, California
Price: $3.35 million
This concrete and redwood house, situated on a 2.3 acre estate, was designed for Maynard and Katherine Buehler. It features two streams, a greenhouse, a guesthouse designed by Wright's apprentice Walter Olds and extensive Japanese gardens designed by Henry Matsutani. The 4,300 sq ft home features two bedrooms, three bathrooms, a large tv room and a wine tasting room.
Robert Emmond House, 1892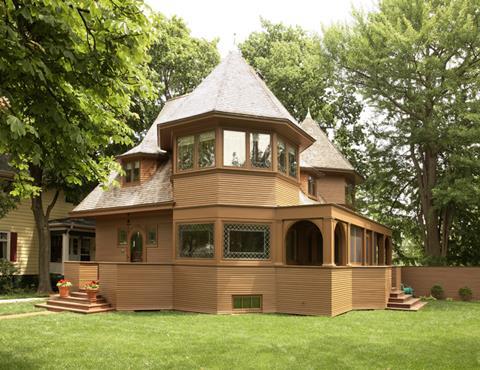 Location: La Grange, Illinois
Price: $999,500
The Robert Emmond House is an early work of Wright, designed in 1892 while he was still working at Adler and Sullivan. Though it pre-dates his Prairie Style work, the Emmond House is one of the best representative examples of Wright's earliest independent work as he was beginning to meld his influence from J. Lyman Silsbee and Louis Sullivan with his own ideas about architecture.Wright also designed a porch with arched columns that was added in 1895. The current owners have restored the house to its original interior and exterior appearance.