Focus on cost over design is driving out innovation, says leading architect
The architect at the centre of the furore over the V&A design contest has taken aim at the whole of the UK's "broken" procurement system.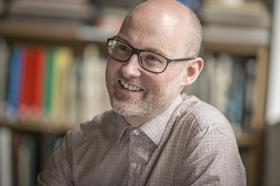 Cullinan Studio leader Peter Inglis said he fears for the next generation of public buildings because innovation is being driven out by an expensive and inefficient system that does not value design.
"With a few exceptions, public procurement is broken, wasteful and does not understand where value lies in design," he said.
"Architects are engaging in a chase to the bottom to over-promise and underbid. The group of firms able to afford to even bid for the work is shrinking and the process is becoming closed to innovation.
"The focus is purely on driving down the client's cost and perceived risk of the procurement process, while the value of the actual end-product this should be delivering becomes forgotten. This does not bode well for the current generation of public buildings."
Inglis sent an open letter to the V&A yesterday, branding its design competition for a £25m research centre at the Olympic Park "deeply problematic".
He estimated it would cost at least £50,000 for each shortlisted team to get past stage two, with a less than one-in-five chance of winning. He ruled Cullinans out of the running, saying the cost was "just too high".
The V&A issued a statement defending its "strong track record of awarding contracts to a diverse range of designers of varying sizes". It added: "The procurement process for this design competition is in line with a project of this scale, complexity and ambition, and with best practice and RIBA guidance."
But Inglis said the museum's response proved his point, saying: "What the V&A is asking for is not unusual. The whole public procurement system is broken in that the cost of bidding has become huge, and this needs to be recognised. We have many examples of waste in the system that the profession has to pay for [see box]. We do not have an issue in principle with design competitions, but they have to be paid for properly. Maybe it is also time for the RIBA to review its guidelines."
Examples of procurement madness
In the last year bid requests for overall turnover have really come more to the fore, reinforcing the trend towards big is beautiful. The V&A sets a minimum turnover of £1.2m for at £25m job. Maybe not completely unreasonable and certainly more open to smaller mid-size practices than most. As a recent example, a university told architects with under £15m a year turnover they need not apply for a £7.5m building. By that measure, we should be limiting ourselves to house conversions. A £7.5m building will need a team of no more than four people. A £15m-plus practice will have a staff of hundreds.
In a recent public procurement call for a university framework, all photographs of built projects were banned in the submission, as this was seen as too subjective an assessment method for picking architectural teams. Just write about how many jobs you have done in the last three years and send us your accounts. Whether the design is any good is irrelevant.
Another university wants to see the architect's policy on their use of mechanical plant equipment. Fail if you don't have a policy, and saying we don't operate mechanical equipment was clarified as not an acceptable answer. This is hours of activity of no conceivable value to making the correct selection for an architectural framework for buildings under £5m.
Source: Peter Inglis