Zaha, AHMM and Cove Burgess on 39-proposal longlist for city fringe landmark
Zaha Hadid Architects, AHMM and a host of other big names have emerged on a 39-proposal longlist to redesign London's Old Street Roundabout, the spiritual hub of the capital's tech industry.
In December last year Islington council launched a design competition to accompany Transport for London's proposals to reconfigure the island, which will see traffic flows change and the creation of a new peninsula.
Entrants were asked to demonstrate the potential for new public art and "smart city" innovation, at the same time as retaining the current high-profile advertising opportunities and accommodating infrastructure for Old Street Underground Station.
A proviso for the submissions was that they should be deliverable with a budget of £1m, unless teams could identify viable external funding.
ZHA's proposals are pedestrian-focused, and would see the introduction of a range of new street furniture into the roundabout space, the tallest of which would be "enhanced tree pylons" that would help clean the air and introduce vegetation to Old Street.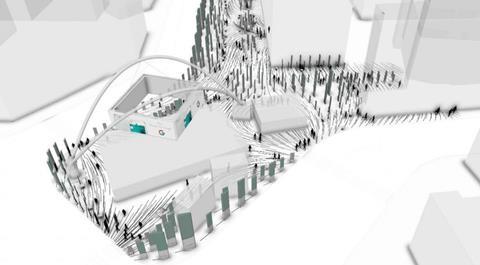 In addition to benches, water fountains and vertical cycle stands, the scheme would also include street furniture with art displays and travel information.
AHMM's submission – in conjunction with developer Derwent London – proposed the creation of a new raised cylindrical structure on the Old Street peninsula, which would include a 360-degree advertising hoarding, 1,300sq m of flexible space for new businesses, and a roof terrace.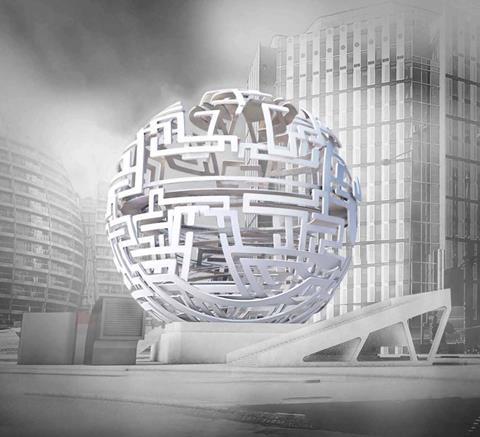 Es Devlin Studio's entry, in co-operation with Google Arts and Culture, proposed the creation of a spherical "Infinite Library", which the practice described as a "Blakean fusion of poetry, people, art, light and technology". The poet and printmaker William Blake is buried at the nearby Bunhill Fields.
Cove Burgess Architects' proposals involve the delivery of three high-rise cycle storage towers, modelled on a scheme already in use in Tokyo, which would also deliver 300sq m of high-level digital advertising space.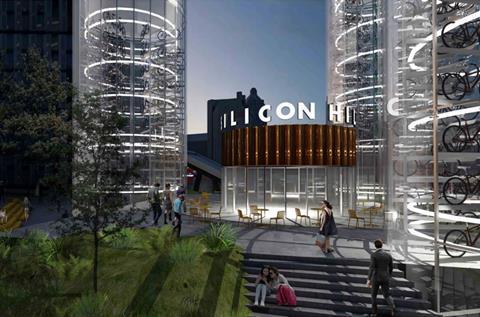 Coffey Architects' "Old Street Cloud" scheme would involve the installation of 24 poles in an ellipse shape around the station infrastructure. During the day, the poles would release a pollution-blocking mist at a height of five metres; after dark images would be projected on to the mist.
Islington councillor Claudia Webbe, who is on the competition's judging panel along with Gehl Architects' Allison Dutoit, said more than 120 expressions of interest in the project had been made, of which the longlist contenders were the most "innovative and inspiring".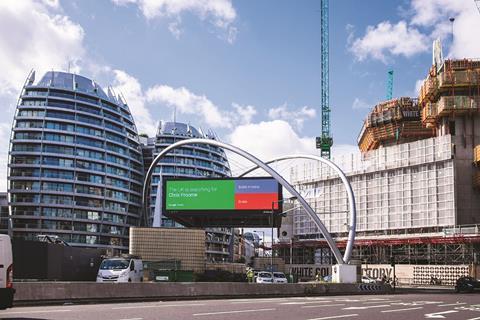 The longlist entries – full details below – can be seen online via Islington council's website, or at an exhibition running weekday afternoons at 2-4 Old Street Yard until March 2.
Islington said it expected to make an announcement on the "best design ideas" in late March.
Old Street Roundabout – full longlist
AHMM & Derwent London
Atelier Chang
Ayre Camberlain Gaunt Architects
Brodie Plant Goddard
Coffey Architects
Cove Burgess Architects
D*Haus Company LTD
Dar Group
Djao-Rakitine
EPR Architects
Es Devlin Studio
Fereday Pollard (01)
Fereday Pollard (02)
Fluid
Gibson Thornley Architects
Gpad London
GRID Architects
Hawkins Brown
Horden Cherry Lee (HCL) Architects
Intervention Architecture LTD
JaK Studio
Mae
Markwick Architects
MRZ.ES
MAX Architects
Naza Architectura y Diseño
Nicholas Hare Architects
Paul Cocksedge Studio with Ben Adams Architects
Perserverance Architects Ltd
Pillbrow and Partners
Ruben Ramos Jimenez
Shedkm
Spaced Out Ltd
Sustrans
Thor Architects
Tonkin Liu
Urben Limited
What if: projects ltd
Zaha Hadid Architects