Practice gets go-ahead for site near Alison Brooks' Stirling Prize-shortlisted Newhall Be scheme
AR Design Studio has won planning permission for a run of new family homes in the Harlow expansion area where Alison Brooks' Stirling Prize-shortlisted Newhall Be development was built.
The Winchester practice said its three-storey, four-bedroomed homes were a determined response to a plot constrained by existing development and roads to three sides.
It said the scheme, for client Little Acre Developments, maximised views to nearby woodland and combined both a sense of "visual permeability" between the three homes with "unity and horizontality" at ground-floor level.
Each house features a primary timber-clad unit, while the two "bookend" street-corner properties have second-floor oriel windows clad in the same metal as the ground floor, to allow – in the words of the practice – each property to "turn the corner and address each street through a material relationship".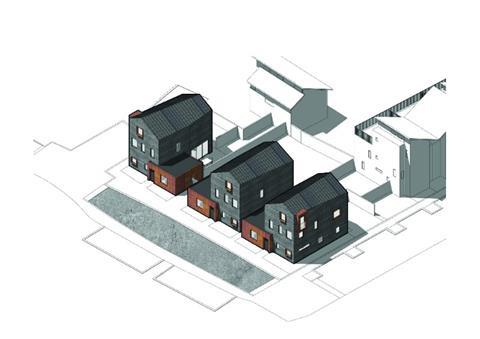 Newhall is ultimately expected to house around 6,000 residents. In addition to Brooks' 85-home Newhall Be development, its 560-home phase included 78 off-site-manufactured properties by Proctor and Matthews, and homes by Richard Murphy.
The scheme's second phase includes more than 200 homes by Sheppard Robson, which completed last year.