Architect hints the sustainable material could feature in high-rise projects
David Adjaye revealed he is "obsessed by rammed earth" and hinted that it would appear in much of his office's future work, including high-rise projects.
The vernacular material's sustainability credentials and potential for much wider use as a low-carbon alternative to concrete fascinated him, he said at yesterday's Gold Medal ceremony in response to an audience question.
"It's ripe for rethinking," he said.
He promised the public would begin to see the fruits of Adjaye Associates' research into reinforced earth from the end of the year "at multiple scales from houses to high-rise", with the Thabo Mbeki presidential library in Johannesburg the only project he named. The scheme will feature eight rammed earth domed chambers.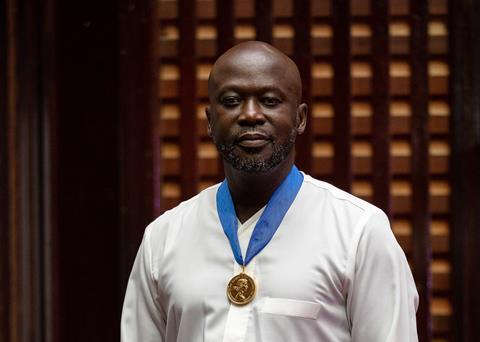 "It's caused a big debate in South Africa about the value of vernacular architecture," he said.
It was the most abundant material on the planet, was easily returned to its original state when a building is demolished, had "profound biophilic properties", killed germs and was an effective insulator, he said.
"I'm obsessed with it and my team are investigating it," he added.
He also praised Francis Kéré for using it to create "powerful work" in Burkina Faso.
He told the global online audience that sustainability – environmental and social – had long been the "backbone" of his work, dating right back to 1999 and his first built project, the Elektra House in Whitechapel which reused existing fabric.
Adjaye was presented with the Gold Medal by Iain Walker, the British High Commissioner to Ghana, at the British High Commission in Accra yesterday. Beamed around the world, the ceremony included congratulatory videos from four presidents and several eminent architects.
He said it was an honour both "deeply moving" and "quite surreal" to have his name added to the long list of laureates carved into the walls of the foyer of 66 Portland Place. He described visiting the RIBA HQ as a youngster and said it had felt like a club he was not part of. Adjaye is the first black recipient of the Gold Medal which was first presented in 1848.
He said that winning the Bronze Medal as a student in 1990 had "unshackled" him from having to prove to his parents that architecture was the right path.
Now being awarded the Gold Medal by his peers would allow him to stop looking over his shoulder, wondering if what he was doing would be accepted, he said.
"It's an unshackling to absolutely deliver the vision [and social agenda] I have been working through for the last 25 years of my career and to be bold about it and to really celebrate it in the world," he said.
Architecture is grand and planetary at its biggest

David Adjaye
During the ceremony he was interviewed in Accra by an emotional Lucy Tilley, associate principal at Adjaye Associates' London office, who has worked with him for 26 years since he was her tutor at London South Bank University.
She asked how it felt to be designing Ghana's new cathedral, a presidential commission that "completely took him aback". He said: "The big confession is that everything at the beginning was a rehearsal for this moment. Architecture just doesn't have a space like an industrial designer has for prototyping. You can't make 20 churches and see which one works."
He predicted an "extraordinary explosion of work" in Africa in the near future, adding that it had already started. "It's ripe for the investigation of what the continent's idea of architecture can be," he said. "That's not a project for architects of African descent only but a project for architecture to imagine the opportunities for the built environment in the 21st century."
In another segment of the event his friend and collaborator, the Turner Prize-winning artist Chris Ofili, said: "He's not designing buildings; he's revealing his soul" – an accusation Adjaye dismissed with a smile as "cheeky".