Lambeth planners back Lower Marsh scheme despite protests
Proposals to demolish a run of shops in the shadow of London's Waterloo Station to make way for a boutique hotel have won the backing of Lambeth council, despite objections to the new building's height.
Kyson's plans at the 1 ha site in Lower Marsh would replace a postwar two-storey development – which hosts a men-only sauna on its upper floor – with a new building ranging in height from three to five storeys, with ground-floor retail and the 66-room hotel on its upper levels.
Kyson said the proposals, earmarked for the Lower Marsh Conservation Area, sought to "infill the historic streetscape" with a new structure featuring "subtle variations in plot width, roof line and masonry which remain a central pillar of the overall character of Lower Marsh".
Lambeth planning officers conceded that the scheme would have some impact on "daylight and outlook" for one neighbouring property, but said the effects would not be unreasonable in the "context of a dense urban environment".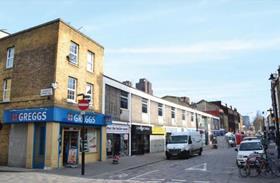 They added that the current run of shops had no heritage value and was "identified as a negative contributor" to the street, while that the proposals were "a significant improvement to and enhancement of the Lower Marsh Conservation Area".
Lambeth's Planning Applications Committee's approval of the proposals was subject the finalisation of a Section 106 planning-gain agreement.