Weston Williamson on how to get on board transport infrastructure projects
Moxon Architects is keen to get up to speed on large transport schemes.
Photographs: Ed Tyler
It was like presenting to a blancmange," reminisces Chris Williamson, director of Weston Williamson. He's referring to the grand unveiling of the firm's proposed cast-iron cladding panels that now edge the Jubilee line platform at London Bridge station, the scene of our photo shoot.
"We'd got the prototypes made by the people in Wales who do Aga cookers, and we thought: 'This is a fantastic idea, they'd fit into the cast-iron segments and express the structure...'."
But blancmange isn't noted for being a decisive client. "No one in the JLE client team would say they did or didn't like it. So we started working on an alternative and three months later they asked: 'Where's the cast-iron panels?'"
And the moral of the story? "Transport is a sector where you have to be incredibly self-motivated and not let it grind you down," says Williamson.
But those striking cladding panels are now in place at several stations down the line, and Weston Williamson's successful design for the JLE station at London Bridge cemented its reputation as an emerging transport architect.
Williamson was the only architect in today's masterclass line-up to have been involved in the project, but designate director Geoff Bee and associate Nick Marks have between them worked on Stansted Airport, Chek Lap Kok Airport in Hong Kong and the Docklands Light Railway. Bee and Marks are currently involved in the firm's work on the East London line extension and the Victoria Tube station upgrade.
Ben Addy and Tim Murray of young practice Moxon have made the cross-London trip from Bayswater to Bermondsey — on the Jubilee line, of course — to seek Weston Williamson's advice on breaking into the transport market. The practice has a variety of commercial fit-outs and residential projects ranging from £30,000 to £7.5 million. But the two directors also developed an interest in infrastructure while at Wilkinson Eyre, and the firm has collaborated on bridges in Taunton and east London.
It soon becomes apparent that this is not a sector for the faint-hearted. Williamson speaks of political interference, on-again off-again funding, and jumping through whole circus acts of hoops to get work in the first place.
"When we were doing the Jubilee line," he recalls, "we'd have 20 people working on it in the office, then the Evening Standard would say: 'Jubilee line axed' and everyone would come in ashen-faced. Then the next week it would be: 'Jubilee line gets the go-ahead'."
"They're saying Crossrail will feel the axe next," chips in Marks, referring to Boris Johnson's decision to end the cheap oil deal with Venezuela.
In fact, Weston Williamson has been working on the design for Farringdon Crossrail station since 2000, and has found that one of the hardest aspects of long-term infrastructure projects is keeping everyone interested. The practice deliberately works on smaller projects in other sectors — an art gallery in Chelsea, for example — to give staff a chance to see their work on site and take leadership responsibility.
Losing staff from the practice can be a terrible blow to long-running projects. "If someone fresh came in, they wouldn't know why the project was like it was," says Bee. "There could be some obvious design moves that jump out, but there might be some very detailed reason that prevents you from doing it."
But there seems to be a breed of transport architect that revels in co-ordinating the complexity and the multiple consultants.
"On the Jubilee line, project architect Roland Paoletti liked to think he was orchestrating a team of jazz musicians," says Williamson. "So he let everybody design their own cladding systems, seats, lighting booms and then chose whichever he liked from different stations and mixed and matched. Right until the end we didn't know what he would like and what wouldn't like."
"I like the jazz analogy," says Addy. "Weston Williamson on lighting boom!"
But Williamson isn't so sure. "You know, jazz isn't my favourite sort of music…"
Inside track on transport
Moxon's Tim Murray and Ben Addy pose questions to Chris Williamson, Geoff Bee and Nick Marks of Weston Williamson
Setting off
Tim Murray: How would you advise a smaller practice to further its chances of an infrastructure appointment?
Chris Williamson: Most of Transport for London's work now is tendered from its framework list, so that would be the first thing to do. Our first job was tiny — the Putney Bridge station canopy had a budget of £35,000, and our fee was about £5,000. But we had to get all the quality assurance to get onto their shortlist in the first place. Then we did a station in Bognor Regis for British Rail, and a design with [engineer] Anthony Hunt Associates but the funding was pulled. We had to wait two years until we got appointed on the Jubilee line for a built transport project.
TM: Do you have to bid to get on the frameworks?
CW: You have to go through an e-auction. It's tragic really. You submit a price to TfL with all your hourly rates, then on a specific day there's this e-auction. You see everyone else bidding, but you don't know who they are and all you know is your position. You could be ranked third, then before you know it you're 15th, because everyone else has dropped their prices. You need to be in the top 10, but you don't want to be the lowest. There is also a pre-qualification based on track record, but yours [of bridges and work at previous practices] would probably place you well.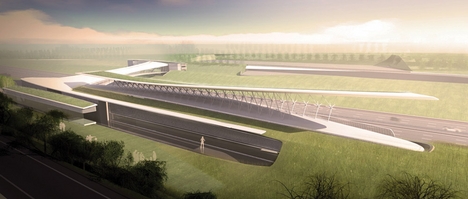 Geoff Bee: But quality is weighted as much as cost.
Ben Addy: And the quality component is British Standard?
CW: You have to get the ISO 9000 quality manual in place and environment statements, accredited health and safety statements.
Geoff Bee: And you get to a certain level of indemnity insurance once the size of the projects goes up.
BA: We're encountering that at the moment. Our largest project is now £7.5 million, and our PI premium has gone through the roof.
Rules of carriage
TM: Are regulations a hurdle?
GB: Individual clients have regulations above and beyond normal Building Regulations. London Underground has a whole tranche. On the Docklands Light Railway, you're complying with Building Regulations, and then they have DLR regulations and then Rail Inspectorate regulations and health and safety regulations. Within the brief, they don't pick and mix according to which part of the station you're working on, they just say "apply globally".
CW: London Underground has a website that is just standards, and you get sent a monthly update. They have thousands.
GB: It's a bit like Building Regs, you sort of get to know the basics. You know the distance from means of escape on a platform should be 90m, so you try and get the stairs in approximately the right place. It's exactly what you do with normal regulations: you have the key ones, and beyond that there are detailed issues like reflectivity of walls.

Nick Marks: You also need to know the skills base of the other people you're working with — so you might need to find out a bit about tunnelling!
BA: It's the same with bridges. You can spot a bridge where the architect doesn't know how the engineer operates. It sticks out when the bridge is forced into a certain way of behaving.
GB: Yes, you're architects working in an engineering environment. You can still challenge things but you can't ride over them. Maintenance is another key area. Because clients are working on such tight timescales, the Tube may close for three hours a night. As an architect you may have wonderful ideas but the overriding desire from the maintenance team is that we don't have 72 types of lightbulb — they just want one. You can fight the battle if it's worthwhile but you can't design without due consideration for the practicalities.
Breaking into the market
TM: How did you get started in transport?
CW: There are similarities between your start and ours. Andrew Weston worked at Richard Rogers and I worked at Michael Hopkins. We met at college and after five years in practice set up on our own in 1986. You come from a similar high design background so the quality of design will not be an issue.
But you also need the processes and rigour to work in the transport sector. I did a project management master's degree evening course which taught me the value of getting all of that side in place — things like having quality assurance and health and safety accreditation, and environmental and equal opportunities policies. Did you have to get all that for the bridges?

BA: We're a sub-consultant to Flint & Neill, so that's a slightly different set-up.
CW: That's the other way of breaking into the market, aligning yourself with an engineer, but they often want you to have the same quality assurance as them. Also, we're finding that some of the engineers we work with in England have overseas offices, and because they know us, they've asked us to do work with them there. It might be as easy for you to get work overseas using your engineers. At the moment, there's quite a bit of transport work in London because of the funding, but there's also a lot overseas, often using British engineers. We spent three or four months in Dubai doing drawings for the metro with an English engineer, and we've worked in Cairo and China.
The JLE
TM: So how did you get the Jubilee line?
CW: There were 10 stations on the line and [project architect] Roland Paoletti put a shortlist of four architects together for each one. We were quite young at the time, and in each one he always had a young architect and three more established architects. I think a lot of the young architects fell at the quality assurance process but we'd done all that for Putney Bridge.
BA: How did he choose those architects?
CW: He said he came back to London from Hong Kong and would ask loads of people, whoever he met, and if your name came up more than once… We showed him what we'd done for Putney. He obviously liked our work enough to put us on the shortlist
TM: Is that process likely to repeat itself, with one person having that kind of control right from the start?
CW: Individuals can have an influence, but nowadays it wouldn't be totally their decision.
BA: And did you patent the cast-iron panels you designed for the Jubilee line extension?
CW: We did think about it, but there was a clause in the contract that said anything designed for London Bridge could get used anywhere else on Jubilee line for no additional fee. We would probably own the copyright but to get it patented we would have had to get it patented in every country and we just thought if anybody wants to copy the idea they'll do it anyway. And what do you end up patenting — the fact that it's cast iron or the fact that it inserts into the cast-iron segment? I think cast iron's days are numbered. Crossrail will be concrete and abroad they don't use, cast iron a lot anyway.