Tony Fretton shows the art of merger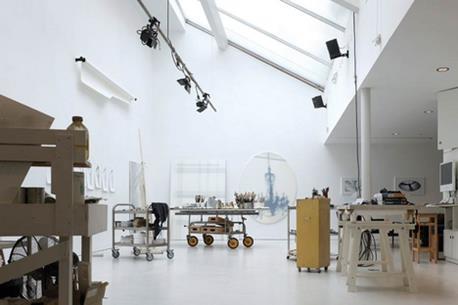 Tony Fretton's bringing together of two buildings into a home and studio was just the beginning of a work in progress for artist Brad Lochore
When New Zealand-born artist Brad Lochore was studying at Goldsmiths students asked a wide range of characters to the London college to broaden the creative discourse. Barbara Cartland was once solicited, not with the greatest sincerity you suspect. In the early 1990s Tony Fretton was invited by Mark Pimlott (who'd been at the AA school) and Lochore remembers the encounter as "more valuable than any of the other artists who came".
When some years later Lochore bought two adjacent properties in London's East End he thought the architect of the widely acclaimed Lisson Gallery would be far too grand to convert them into his home and studio and was amazed when he said he'd love to do it. For Fretton, as he explains, the advantage of such a commission was intellectual: "To a lot of clients you are just an architect; to work with someone who thinks architectural ideas matter is very attractive."
After finishing at Goldsmiths, Lochore had been renting a studio but was disrupted when a developer abruptly turfed him out. With his career taking off — by 1995 he had already had two solo shows at the prestigious Victoria Miro Gallery — the artist decided to buy and in 1996 picked up a pair of properties on Old Nichol Street, E1. Moving into the buildings as they were, Lochore has been evolving them ever since — a process which edges ever closer to completion but, like a mathematical asymptote, seems destined never quite to draw to a close.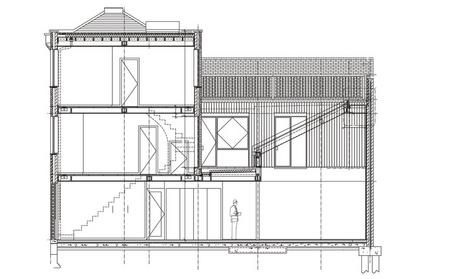 Taking advantage of the site footprint, the ground floor studio pushes out to the rear party wall; a terrace is created at first floor level.
While Lochore has been gradually sprucing up his property, the context's urban transformation has been much more conclusive. The artist says that a little over a decade ago when you said you were moving to Shoreditch people didn't know where it was, but now — with members' club Shoreditch House and Terence Conran's Boundary Hotel recently opened on its streets — the world and his wife seem to be there of a weekend. Recently a prominent designer told me, in all seriousness, that he'd taken a studio in South Kensington because he can no longer afford the East End.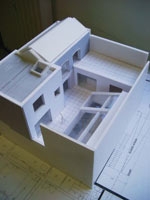 Model of the Brad Lochore studio and home.
Historically, though, the district was incredibly poor, with a tradition of artisanal craft — Fournier Street's famed Huguenot weaver's houses are close by — and later, light industry. By the mid-1990s local businesses were closing rapidly and it was very cheap to acquire large spaces there. Sensing the swoop of developers, Lochore and his partner Eden (now his wife) presciently encouraged many friends to buy so they could embed an artistic community who'd live and work in the area.
They've been astonishingly persuasive: Cornelia Parker is literally next door; David Adjaye's Dirty House for artists Sue Noble and Tim Webster is less than a minute away; the Chapman Brothers, Rachel Whiteread and Chris Ofili live close by — a veritable roll-call of YBAs.
"I was very strategic about it because I only wanted to buy one building in my life," says Lochore. "And the reason I got Tony on board was because I really wanted to make something solid and permanent."
Fretton made an initial proposal in 1997 and, with some adjustments, this has largely been executed. While the building on the left has been substantially refurbished, the building to the right — originally a Dutch-style gable-end building which burnt down in 1968 — has been rebuilt. Although from the street the pair look disconnected they've been laterally converted to create a continuous floor at each level.
"I wanted to make a building that worked very subtly with the aleatory qualities of the area," says Fretton. "It's interesting that David [Adjaye's Dirty House] subsequently made a house of "image" — which he was right to do — but at this time we wanted to do something much more extraordinary: to make a building that didn't really work with saleable imagery, but with ideas."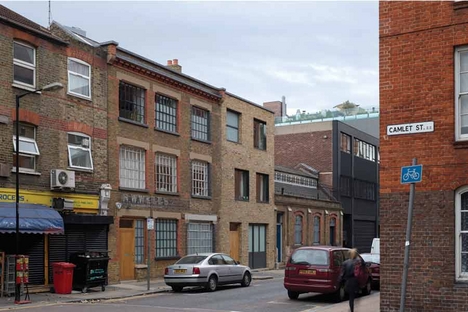 To this end the casual disposition of the windows in the new insertion's elevation takes account of the internal arrangement of rooms rather than any formal ideas about what a facade should be. As such, it is informed by a reading of the pragmatic concerns that have shaped the East End's industrial quality. To these windows there are polished stainless-steel reveals (difficult to pick out on the photographs) which make a shockingly crisp juxtaposition to the rough masonry. These bounce reflected strips of sunlight on to the interior walls while allowing the discreet investigation of threatening nocturnal disturbances outside.
The northern side of Old Nichol Street forms an edge to the Boundary Estate, Owen Fleming's hugely ambitious radially planned red-brick housing scheme from the end of the 19th century. Fretton's new facade is of ubiquitous London yellow stock brick, but this is yet to be finished with a thinned-down plum-coloured Keim wash — "almost a watercolour" — which will allow the inherent variation of the material to permeate through while identifying the elevation with the facing period blocks.
Confusingly, there are two unnumbered front doors. The one on the left is most used, and leads directly to the main staircase; the one on the right leads to a smaller staircase, and this has been included to allow the separating of the domestic accommodation should it be necessary. But while there are two points of vertical circulation, the building is perhaps most interesting for how you can move horizontally. Instead of having a floor for living quarters and another for bedrooms, these have been separated into the warehouse and new-build respectively.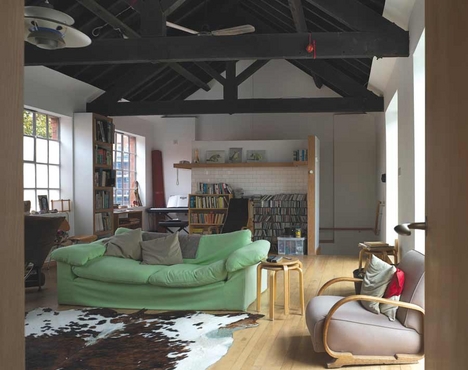 Credit: Dennis GilbertThe sitting room on the second floor.
On the first floor is the dining room, which opens on to a new wing containing the kitchen and the library, while the sitting room is at the second floor. From these two main rooms, a door leads to the second staircase in the new addition, beyond which are the bedrooms: the master on the top floor with another (for daughter Phoebe) below it. When you consider the building is a total of 500sq m it seems astonishing that there are only two principle bedrooms (and a sneaky third in the basement, rented, incidentally, by Pimlott).
But this is because the whole of the ground floor terrain is given over to studio and office functions. Although the critical centre of the building, from the street the studio is hidden behind three anonymous, translucent glazed doors (again, to allow separation if need be). These, too, are set to be added to with a stainless-steel chain-mail screen. This will allow a more generous relationship to the street when the doors are open so passers-by can look in.
The studio, which pushes out to the rear party wall to take advantage of the site footprint, is the most impressive space in the whole complex. Two small columns (one enclosed in a wall) take the load of the structure above while allowing a spatial openness at this level ideally pitched to visiting collectors (there is discreet sliding storage for paintings) and, on occasion, small private exhibitions. But first and foremost this is an exceptional environment in which to paint. The large north-light creates the luminous conditions essential to work that deals in whites and very subtle gradations of grey.

Above this, Fretton has inserted a first-floor terrace, on to which all the principle rooms face. Here you feel almost entirely removed from the frenzied capital. Enclosed on all four sides, the experience of a large, private volume is heightened by the infringement on the area you can stand made by the studio's glazed roof. You get a sense of space moving away from you as the roof gently ascends towards a much higher rear party wall, beyond which the stepped massing of the neighbouring building describes a sharper incline to allow for Lochore's right-to-light.
Both these angles are about entirely practical concerns, but the impression remains of an abstracted buttressing of the capital beyond, which has allowed a transplanted, almost suburban garden — with patio tiles, potted plants, even a basketball hoop — to thrive within. Only in recent years has the city started to reassert itself, first with the southern protrusion of SOM's Broadgate Tower (2008) and lately — overlooking Lochore's upper terrace — the roof bar of Conran's hotel.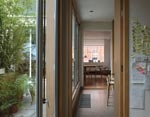 Credit: Dennis GilbertView from the library, through the kitchen to the dining room; the first floor terrace is glimpsed to the left.
This is a very silent building, which is down to the way it has been constructed. All the walls have been packed with insulation, and behind the plasterboard an 18mm layer of plywood has been inserted so Lochore can screw in artwork anywhere without having to find the joists. He has gone for durability in the specification, so it is oak for most of the floors and fitted furniture. Through his material choices you can discern that the guiding view has been long-term: that this is about a family committing to grow up here, and grow old here. Fretton's gentle architecture is content to recede to allow the sometimes messy unfolding of everyday life. "We really couldn't be happier here," says Lochore.
This attention to the project's materiality — seen and unseen — has no doubt benefited from Lochore deciding to build the project himself.
At the height of the boom the artist couldn't find a contractor to do it for a reasonable price, so he pluckily decided — with no real building experience — to be his own contractor. And aside from coming up against the "astonishingly bad working attitudes and poor quality of work" of the British — to the point where he ultimately would not employ any nationals — the quality with which he has delivered the project is amazing.
As Lochore is showing me through the site photos on his computer at the end of the tour, each seems to elicit ever greater pleasure as the work progresses. "Look at the detailing on that lead roofing — isn't that a thing of beauty?" and the like.
He even reveals that at the same time he undertook to renovate his mother-in-law's cottage in Hampstead, where he found an underground well that "made this project look a walk in the park".
On the artist's website there are the usual headings for work — Paintings, Prints, Film — but the final one is unexpected. "Architecture", it says "Coming soon…" You wonder if the full effect on the young artist of that meeting with Fretton nearly two decades ago has yet been fully realised.
Specifications
Windows
Rea Metal Windows, type W40 sections, polyester powder coated RAL 9006. www.reametal.co.uk
Roof
Roofing membrane over new studio roof, new house and upper terrace roof. Inverted roof construction comprising Derbigum built-up felt roof covering by Alumasc Exterior Building Products. Insulation over membrane, Kingspan Styrozone H350. www.alumasc-exteriors.co.uk www.insulation.kingspan.com/uk
Tiles
Terrazzo paving tiles on external roof terraces are Pilkingtons Quiligotti on Harmer Modulok adjustable pedestals in Prisma and Damson 2 R3 slip resistant finish. www.pilkingtons.com
Lighting
Studio track and spot lighting three-circuit track by Erco Lighting. Tel: 020 7408 0320.