Richard Hopkinson and Platform 5 Architects have completed a £3 million refurbishment of Waltham Forest College, breathing new life into an existing 1930s building to create new formal and informal education and meeting areas.
Architects Richard Hopkinson Architects and Platform 5 Architects
Location East London
Completed January 2012
The project has involved opening up the main hall to provide views through the building from the entrance, with lightwells inserted to bring daylight into a new learning-centre space.
The learning centre is designed to attract users to the heart of the main building, with a café at the entrance, acting as draw for users and deliberately blurring the boundaries between formal and informal spaces.
Beyond a glazed wall sits a large, double-height space containing a library and a series of informal learning areas, while an arts studio occupies the former stage area behind a demountable feature wall.
The upper area houses a series of seminar and conference rooms alongside a brightly coloured refectory. Two new staircases improve circulation and provide additional escape routes: clad with translucent insulated panels, these rest gently upon the original 1930s structure.
The suspended mezzanine and pod
The main learning centre space sits directly above a public swimming pool, leading the architects to suspend additional learning and teaching space in a pod and mezzanine floor to avoid additional loading to the floor.
It was found that the existing steels, which span 16m above the hall, had sufficient strength to take the additional load.
As the mezzanine and seminar pod are shifted off axis by 17 degrees, to respond to the new performance stage opening, the architects adopted a system of beams spanning between the existing structure. An innovative offset bolted hanging support structure was devised to allow the new skewed columns to be hung from the existing beams.
Deep walls were adopted to hide the structure, with the void accommodating service runs to give a full finish inside and out. Large cantilevered steels were used to achieve the open-glazed corners at either end of the pod with glazing supplied by Planet Partitions.
The staircase is also suspended, using expressive stainless steel Macalloy rods. The retention of the hall's original parquet floor beneath required significant acoustic treatment of the soffits of the mezzanine, pod and the ceiling of the main hall with Ecophon suspended panels.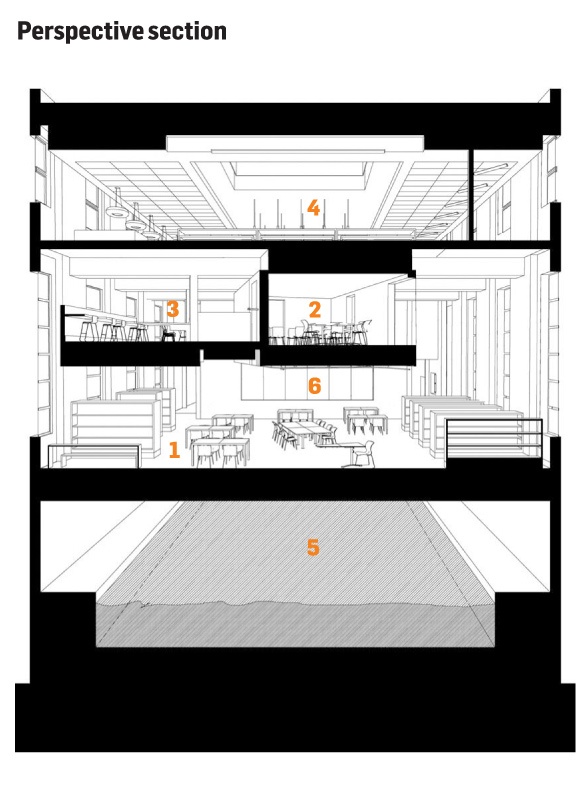 1 Heart of College learning centre
2 Suspended seminar pod
3 Mezzanine
4 Café on 4 — refectory
5 Public swimming pool
6 Theatre stage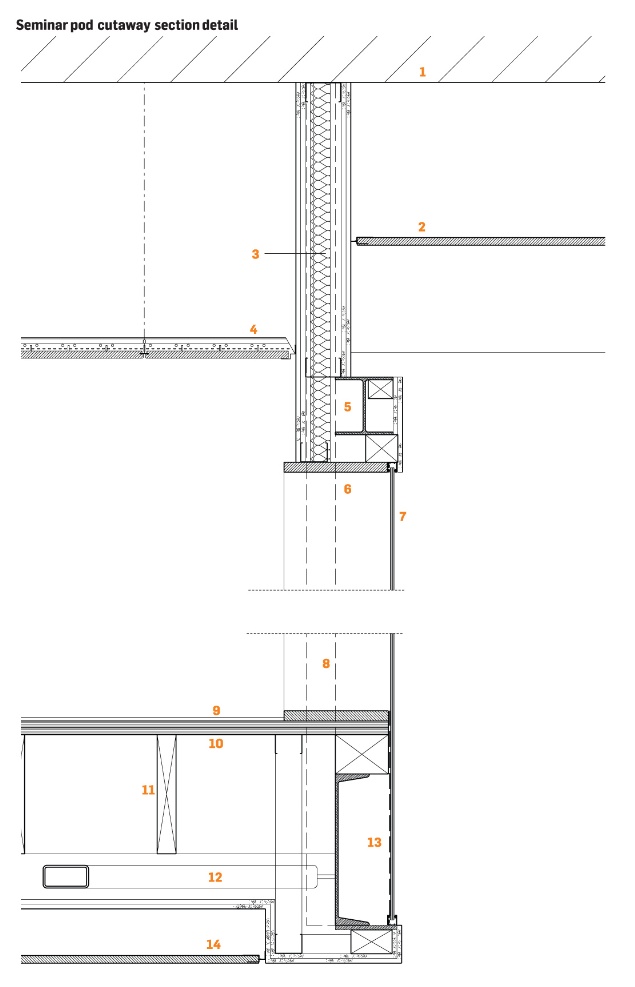 1 Existing Frazzi pot slab
2 1,200x2,400 Ecophon acoustic ceiling
3 50mm Isover 1,200 mineral wool
4 1,200x600 Armstrong Optima Vector Mineral suspended ceiling tile
5 152x152 UC23 beam — intumescent painted
6 Timber window board
7 Planet partition 16mm laminated glass screen
8 203x90x30 PFC suspended column
9 Milliken Carpet tiled floor finish
10 2no. 18mm plywood floor deck
11 225x50 C16 timber joist at 400mm cc
12 120x60x5.0 RHS cross bracing
13 Back-painted glass to obscure structure
14 2 x 12.5mm Gyproc FireLine MF ceiling for acoustics and fire separation
PROJECT TEAM
Architect Richard Hopkinson Architects & Platform 5 Architects
Client Waltham Forest College,
Project manager Richard Hopkinson
Main contractor Huttons Contractor
Fire consultant JGA Fire
Quantity surveyor Davis Langdon
M&E GDM Building Services and Environmental Engineers
Services engineer Halcrow Yolles
CDMC and Building Control Butler & Young
Acoustics Sandy Brown Associates
Graphic design Nalla